T.I. Reacts To Donald Trump's Charlottesville Comments: 'F*ck Him To The Fullest'
The rapper didn't mince his words.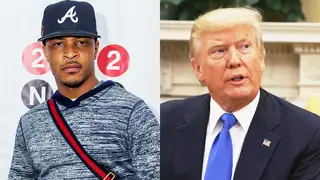 Leave it to T.I. to express how a majority of the country truly feels about 45. The rapper, who has openly denounced Trump for his erratic behavior, didn't mince his words when asked about the president's recent comments regarding the tension in Charlottesville. 
On Tuesday (Aug. 15), Trump held a press conference in which he placed blame on the "alt-left" for the chaos which ensued in Virginia. T.I., however, had a less than poetic response to describe his disdain for 45's defense of violent protesters. 
"That's exactly what I expect from a sucker. You know, cowards throw stones and hide their hands," Tip told TMZ. "So earlier, you know, they applied pressure and made him denounce his white supremacy homeboys and his neo-Nazi partners, and after bipartisan pressure he denounced them, but I'm sure there was a phone call or some sort of covert meeting with them, saying, 'What the f*ck do you think you're doing? This is not what we elected you for!' and then he had to come back and reverse."
Following Trump's speech, speculation arose that the president was in fact aligning himself with white nationalists. And T.I. has made his stance very simple and clear. 
Check out T.I.'s full interview with TMZ, below.