Jermaine Dupri Says Discourse About Upcoming 'Freaknik' Doc is 'Disrespectful'
The award-winning producer recently opened up about the movie with Tamron Hall.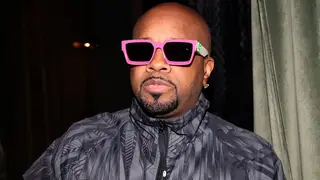 Earlier last month, social media users were sent into a frenzy following the announcement that a documentary about Freaknik, a small Atlanta HBCU picnic that rose to cultural prominence before meeting a inevitable demise, was coming to a screen near them. Now executive producer Jermaine Dupri is setting the record straight about The Wildest Party Never Told.
During a recent appearance on the Tamron Hall Show, the So So Def founder–who couldn't wait to be asked about what exactly will be shown–seemingly acknowledged the discussion surrounding the now-defunct festival regarding the behavior of male guests and how women were reportedly mistreated.
Speaking to "all of those people out there," the Grammy Award-winning songwriter made it clear that "My vision of Freaknik is really a story about the South and Atlanta," before asserting that "It's not really a story about what everybody keeps talking about."
Dupri shared that he didn't like that the conversations about negative aspects of the event were hijacking the announcement and even admitted that it felt "a little disrespectful because I'm just telling a story of Atlanta, right?"
He continued, "And how Atlanta was built into the place that it is today." The industry veteran argued, "People came to Atlanta through Freaknik, and they stayed. I say that in 'Welcome to Atlanta.' … and that's how Atlanta has become this multicultural place. Freaknik plays one of the biggest roles in that period."
Still, Dupri remained honest, stating, "I can't say that you won't see freaking in this movie. It is called Freaknik. It is what it is." If anything, the documentary aims to celebrate several events that are taking place around the same time, including "the 40th anniversary of Freaknik, it's the 50th anniversary of Hip-Hop, and it's the 30th anniversary of So So Def." "So, it's all tied in together," he added.
Freaknik: The Wildest Party Never Told premieres on Hulu in April 2024. Other executive producers include Luther 'Uncle Luke' Campbell, Melissa Cooper for Mass Appeal, and more.