Joy Bryant: 'Let's Not Celebrate Too Hard' Over Diversity in Hollywood
Plus, the Rosewood actress reminisces on working with Beyoncé.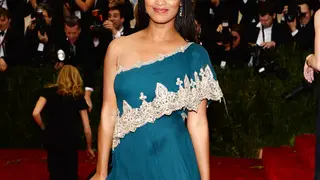 Joy Bryant's entire life has been about beating the odds. She grew up poor in the Bronx, yet used her academic talents to get into prep school, and then Yale. She was a model in the 1990s, when — if you can believe it — it was even more rare to see a woman of color on the runway than it is today. She then became an actress by landing a role in Carmen: A Hip-Hopera, alongside a rising pop star named Beyoncé, and pretty much hasn't stopped working ever since. Her longest role to date has been on the family drama Parenthood, on which she starred as Dax Shepherd's baby's mother-turned-wife for five years. Hollywood has been kind to Bryant, at least relatively speaking, but that doesn't mean she ever lets her guard down. 
We hopped on the phone with the candid actress, who currently has a recurring role alongside Morris Chestnut in the medical dramedy Rosewood, to talk about Hollywood politics, refusing to be a statistic and her most lasting memory of Queen Bey.
You've built your career in TV, and there's all this talk about how we're in the midst of a Golden Age when it comes to diversity on the small screen. Are you feeling the positive effects of that?
I think we can celebrate the strides that we've made, but we still have a long way to go. And I think only time will tell if this is a trend that seems to pop up every so often, or if this is lasting, substantial, sustainable change. Let's not take our mind off the fact that there's still a gross inequity when it comes to representation. Not to sound like a Debbie Downer, but let's not celebrate too hard. Let's not bring out the Champagne yet, in my opinion. We still have a fight to go. I mean, the statistics are appalling, that is nothing to celebrate. But it's great that we have shows likes Rosewood, people like Shonda Rhimes, and Empire, which disrupt the whole model. But we still have ways to go, everybody.
Have you experienced getting turned down for roles, or not being considered for stuff because of your race?
Has anyone said to my face? You're not getting this because you're Black? No. But they did do that when I was a model, back in the day. Oh yeah, back in the '90s one of the biggest designers in the world said, "Oh yeah, we're not using Black girls this season." In Hollywood, I don't know. It's something that is kind of hard to prove. I'm a Black woman in Hollywood, so chances are I many not have gotten something because of that. Can I prove it? No. But if it didn't happen to me, it happened to another sister. 
Bringing it back to Rosewood, that's why a show like this on network television is so exciting. It's changing things, little by little, to where we're not thinking about Black shows and movies and "mainstream" ones. 
Exactly! That is the reason why I signed on to do this recurring role. I mean, one, to get to work with Morris, we hadn't worked together or even met. But also just what the show symbolizes and represents, which is so dope to me. We have these brown-skinned, Black people who are a loving family, supportive, educated, professional, you know? Its fly, it's beautiful. 
You got your start in Carmen, a cult favorite. So did this chick named Beyoncé.
[Laughs] Oh, right, some chick named Beyoncé that hasn't really done anything with her life after. 
Beyoncé season is definitely upon us, so as someone who knew her back then, could you share a memory of working with her so many years ago?
One of the things that I remember from working with her is how her work ethic was just insane. While we were shooting Carmen, they were shooting the "Survivor" video. I remember her being sick, and, like, you would never even know. She didn't complain, she always had her sh*t together. Her work ethic was extraordinary and she worked her butt off. It's not a surprise where she is right now at all. This was just inevitable, because when you bust your ass like that and you're talented, and you're a nice person, how could you not? She's just one of the nicest people that I've ever worked with. 
You have a great quote in which you say, "I was raised a poor Black child in the Bronx and then I went to Yale, so anything is possible." Why do you think that you were able, you specifically, to have the opportunity that other kids never got?
I have to start with the fact that I was raised by someone, my grandmother, who instilled in me the right things at an early age in spite of what our financial or class circumstances were: being poor, Black, in the Bronx, I could still dream. Education was going to be my way out. Not everyone has a two-parent home, but you need one person in your life who is consistent and who loves you unconditionally. I know that it does take a village but sometimes the village ain't there. I was lucky enough to have someone who had my back. I was definitely born a statistic, but I didn't end up as one.
Rosewood airs Wednesday nights on FOX. Watch Joy talk about getting her start in Hollywood on The Real, below:
BET.com is your No. 1 source for Black celebrity news, photos, exclusive videos and all the latest in the world of hip hop and R&B music.