De La Soul Calls Out "Redundant" Hip Hop on New Single
De La Soul preps first new single in nearly a decade.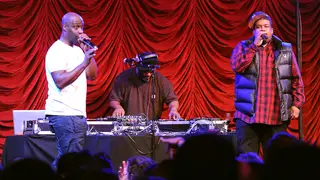 No self-respecting hip hop fan would question De La Soul's contribution to the culture, but one may be up for a debate with the "Me Myself and I" trio as they prepare to release their first single in nine years.
Next week, De La Soul drops "Get Away," a track alleging that hip hop music has a lack of variety.
"I think it's a great record to reintroduce ourselves with," DJ Maseo told Rolling Stone. "It's pretty much reflecting on the stage of hip hop at this moment: everything is redundant. Everything sounds the same."
"[There's] no real lyrical content," he expounded. "Everybody's just doing business, not really creating."
"Get Away," which samples a skit off Wu-Tang Clan's Wu-Tang Forever, marks De La Soul's 25th anniversary in the game, and will be released independently as the start of monthly installments of new music and videos the group is distributing through YouTube and other social media platforms.
"It's about trying to just creatively have a bunch of songs in the stable," Maseo explained. "You have to consider a lot from the administrative standpoint in the release of a project. I see the song that we're putting out being the perfect B-side — with a video this time."
BET.com is your #1 source for Black celebrity news, photos, exclusive videos and all the latest in the world of hip hop and R&B music.
(Photo: Dimitrios Kambouris/Getty Images for Blossom Ball)