COVID-19 Killed Rural Black, Latino Victims At Much Higher Rates Than Whites, Research Shows
Many living in poor rural communities lack access to healthcare facilities and information, researchers say.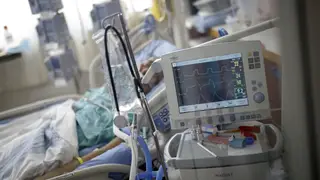 The death rate from COVID-19 for Blacks and Latinos living in rural areas is significantly higher than their white counterparts, The New York Times reported.
In 2020, the deadly virus infected and killed Black and Latino residents of farmlands and small towns at roughly six times the rate of their white counterparts, according to data cited in a new study released on July 21. The racial gap continued into the pandemic's second year. At the height of the Omicron outbreak last winter, Black death rates in rural areas exceeded that of whites by 34% and by 40% in small or medium cities.
On July 12, the Biden administration issued a warning about the fast-spreading Omicron BA.5 subvariant and urged Americans to get "life-saving" vaccine boosters. However, access to healthcare in rural areas contributed to the racially disproportionate COVID-19 death rate.
As the Times noted, there are too few pharmacies located in rural communities where residents are poor and less mobile. At the same time, some Black patients– many of them uninsured and living far from hospitals– sought treatment too late. Medical experts also said that there's a general lack of awareness about vaccines and boosters among Blacks and Latinos in those areas.
The research, led by Andrew Stokes, an assistant professor of global health at Boston University, cited Centers for Disease Control and Prevention data that revealed a recent shift. White COVID-19 death rates now exceed those of Black people.
But according to the study, the racial gap has decreased because the pandemic worsened for the white population–not because the situation has improved among Blacks and Latinos.
For whites, COVID-19 death rates increased by 35 percent from the first to the second year of the pandemic. During that period, death rates declined by 6 percent for Blacks and 1 percent for Latinos.
"It's not a movement toward equity. It's that white people started getting and dying of COVID more," Alicia Riley, a sociologist at the University of California, Santa Cruz, told the Times.
Looking ahead to a possible virus surge in the winter, Stokes said there's an urgency to design vaccination campaigns that will reach rural Black Americans.
"Adopting equitable vaccine strategies requires us to go above and beyond simply making them available," he said.