Killer Mike's New Banking Platform Kinly Aims To Build Black Financial Wealth
The Atlanta rapper's Greenwood absorbed the company.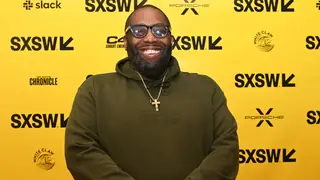 Killer Mike has acquired Kinly, a new banking platform with a mission to help Black communities build financial wealth.
Greenwood, the Run the Jewels rapper's banking institution he launched in 2020, absorbed the mobile banking app.
"Kinly has always shared in our commitment to building a more transparent banking experience for Black Americans," Ryan Glover, CEO and co-founder of Greenwood, said in a release. "The acquisition of Kinly represents a massive milestone for Greenwood as we continue in our shared effort to elevate financial tools available for our community. In partnership with the Kinly team, we plan to grow our footprint and expand our services to provide best-in-class experiences for Black and brown families and businesses."
More than 300,000 Kinly users will now be able to access Greenwood's fintech products as a result of the partnership, according to the release.
"If we allow ourselves to express to one another our deepest and sometimes our darkest thinkings, we will eventually hear one another," Mike told attendees at the 2023 Foundation for Individual Rights and Expression (FIRE) Gala. "Burn off the fat of prejudice, of racial injustice, of misogyny, of phobias, and we will get to a place where we make a better, a more perfect union. But that never happens if we're not allowed to speak, because if not allowed to speak we will not be allowed to hear one another."