The Story of Charlie Murphy's Wife's Death Will Break Your Heart
Tragic.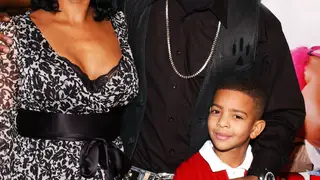 As family, friends and fans mourn the loss of Charlie Murphy, interviews are resurfacing from when Murphy suffered an immeasurable loss of his own. 
Back in 2009, the comedian's wife, Tisha Taylor, passed away after losing her battle with cancer. Before his own death, Murphy admitted it was a devastating loss that had a huge impact on him.
In a past interview with Black Doctor, Murphy relived that shock and tragedy of discovering his wife's deadly illness. "I came home and she's in the kids' room, crying. That's when she told me. Cervical cancer. You don't really grasp it," he said. "When the person tells you they're going to die, you go crazy. You become a different person from the moment you hear those words."
He continued to explain that her sickness was made even more devastating because his wife was always careful about her health, saying, "A young woman like that — don't drink, don't smoke, don't do drugs. I know people that's 90 who do all of that."
Murphy also lauded his wife's organizational skills, explaining that even as life was slipping away from her, she was helping her family. "She's a very organized woman. When she died, all the arrangements had been made," Murphy said. "She made her own arrangements."
Listen to Murphy talk to The Big Show after his wife's passing, below:
Murphy and Taylor were soul mates, as he explained it, saying, "For me, it was an instant. The first night I met Tisha was on a boat. She was having dinner with her friends. She didn't know who I was, and I asked her to come with me. Her friends told her not to go. But she did." He continued, "We drove straight to my brother's house," he told Black Doctor. "My mother was there. My stepfather was there. Eddie was there. They were all in the kitchen. I walked in and said, 'This is my future wife.'"
Finally, Murphy said, "I don't believe that you can meet another person that fits just like that. She wasn't even another person. She's a mirror, you know what I mean. It was like that for 20 years."
After her passing, Murphy committed his life to being a good father to their two children, Xavier and Eva, but he admitted, none of them were ever the same. "I'm not OK; you're never really OK, you just learn to live with it," he said. "That's something monumental, losing somebody that close in your life. It happened to my children and me, you don't get used to [it] and you don't get over it."
Charlie never remarried. "The kids want me to get married, but I don't want to bring someone home and it not work out," he told Tim Teeman. "I'll always be grieving for my wife but she said: 'Go on with your life. Find somebody that can make you happy.'"
So as the world mourns Murphy's passing, we can at least smile knowing that he and his soul mate are together again.
See how Charlie's brother, Eddie, honored him with BET Breaks, above.