'SNL' Skit Pokes Fun At Will Smith's Infamous Oscars Moment
Jerrod Carmichael, Chris Redd, and Kyle Mooney, mocked the March 27 disastrous moment.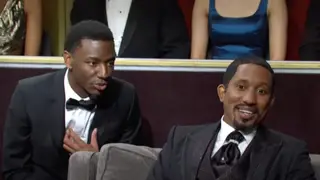 On Saturday (April 2), Saturday Night Live mocked the shocking incident that took place between Smith and comedian Chris Rock at the Oscars.
In the skit, host Jerrod Carmichael played a seat filler who is a huge fan of Smith (played by Chris Redd). In the midst of their convivial exchange, Smith pauses on a requested selfie from the seat filler after audio of Rock's Jada Pinkett Smith joke rings out.
"Hey, I'll be right back man," Smith says as the camera remains a still shot of a smiling Carmichael, ultimately capturing his shocked facial expression as the sound of an assumed smack from Smith to Rock happens.
In between conversation with the seat filler, Smith yells his now-notorious phrase, "keep my wife's name out your f***ing mouth!" twice.
Smith urges the seat filler to take the selfie but he said, "nah, I deleted my phone."
Another seat filler, played by Kyle Mooney, take a seat next to Carmichael. Excited to be seated close to the actor, that all of a sudden changes once he realizes that Smith is trending online. He declines to introduce himself and state his name, claiming, "they didn't give me one."
Smith asks the two who their favorite comedians are and Carmichael stutters and prevents himself from saying Chris Rock's name, before ultimately saying, "I don't have one." Mooney struggles nervously to say Finding Dorey.
Continuing to avoid confrontation with Smith, the seat fillers try to be as calm and cordial as possible, while Will begins dancing to his hit song "Gettin' Jiggy Wit It," simultaneously saying, "everything is normal yall."
Watch the full skit below: