Could Political Commentator Tara Setmayer Be The One To Replace Meghan McCain On 'The View'?
The two conservatives have feuded in the past.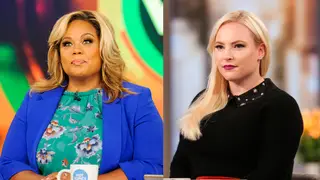 Some could argue that The View has been much more peaceful these days without Meghan McCain. The conservative commentator exited the show at the end of last season and now fans are wondering who will fill her seat.
After seeing Tara Setmayer, a longtime Black Republican is a senior adviser to the Lincoln Project, on a Nov. 15 episode of The View, audiences are calling for her to be the show's latest conservative voice. There is also a twist, McCain and Setmayer, who did not support the election of former President Donald Trump, have feuded in the past.
On a July 2018 episode of The View, Setmayer compared Trump supporters to a cult, which made McCain snap on live television.
McCain retorted, "Please stop saying that. You said it the last time you were here and it's so reductive to people like me!"
Setmayer responded, "No, I won't stop saying that because ... it's not, it's not everyone, but there's a large group of people who blindly follow what this man says, that don't think of themselves."

The conversation turned into a brief shouting match between the two. See their fiery exchange below:
By 2020, U.K. tabloid The Sun claimed McCain had Setmayer banned from the chatfest. A source told The Daily Mail, "We haven't had Tara back on the show in [seven] months and of course you can guess why, Meghan hates her. For whatever reason [ABC] does whatever Meghan wants."
Setmayer states however that she was misquoted as saying she had been "bullied into silence" by McCain. She then responded to Setmayer by tweeting, "I've never done jacksh*t to you."
Considering all of their backstory, The View fans are loving the idea of  Setmayer replacing McCain. One user wrote, "Give Tara the job!!!"
Another person tweeted, "I rarely agree with Tara Setmayer, but at least she can have a reasonable conversation unlike Meghan McCain."
Even former View co-host Sherri Shepherd showed Setmayer some love,"I'm so happy seeing @TaraSetmayer co-hosting @TheView today. I've always thought she was not just super-smart, but she's so great explaining conservative thought & Republican strategy in [a] way everyone can understand."
However, The View has stated they have no plans to permanently fill McCain's former seat anytime soon. In a September statement, the show stated, "Continuing the mission of dynamic conversations with diverse points of view, The View is taking a little time to fill the co-host seat vacant since Meghan McCain's departure at the end of season 24."