Aaron Hernandez: 5 Bombshell Details We Learned From Netflix's Docu-Series
"Killer Inside" underscores the athlete's alleged queerness as the source of his demons and eventual undoing.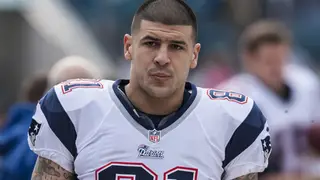 Aaron Hernandez isn't alive to speak for himself, but a newly premiered three-part Netflix documentary is telling a story that quite frankly is different than the one many of us imagined about the late NFL wunderkind. 
Killer Inside: The Mind of Aaron Hernandez starts at the beginning, in Hernandez's childhood home of Bristol, Connecticut, and ultimately trails the key events that resulted in his reported suicide. 
The controversial docu-series aired officially on Wednesday (Jan. 15) and serves as posthumous chapter of Hernandez's wildly unconventional saga. 
It sheds light on the intricacies of his home life, the people who raised him up, and the talent and charm that separated him from his peers and later made him a coveted draft pick. 
Informed by a series of moments that build on a narrative explicitly portraying him as a popular, kind all-American charmer on and off the field that turned criminally mad at the blink of an eye, The Mind of Aaron Hernandez curiously underscores the athlete's purported homosexuality as the source of his demons and eventual undoing. 
"Aaron had a belief that his abuse as a child impacted his sexuality. That was one of the things that he held on to as to why he's, in his mind, has this aberrant behavior," claimed George Leontire, a key litigator on Hernandez's defense team and gay man himself. 
"I believe that if someone had made football less important, and Aaron's life and behavior more important, the outcomes may have been different."
Depicted as a man living a double life – football star by day, gangster by night – the documentary also alleges the government wanted to sell the story that Aaron was a closeted gay man in a historically homophobic world and as a result wanted to take his anger out on the world. 
We learn, however, the storyline wouldn't fly in court, regardless if close friends of Aaron were corroborating his traumatic upbringing and confused past.  
Irrespective of his sexual preference or orientation, Hernandez's story is one that left more families than his own marred by furious deceit and fatal violence. The once-beloved hometown sports hero would die a convicted murderer in the first degree, survived by his fiancée, Shayanna Jenkins, and their daughter, Avielle Janelle Hernandez. 
With more to see and unpack, here are just some of the bizarre things that were presented in court and now shared with the world—spoiler alert.
The NFL Recruited A Murder Suspect

To put things into perspective: "No one has allegedly murdered two people and then played an entire season as a professional athlete." Aaron was indicted for a double homicide in Boston just one month prior to being drafted by the New England Patriots and scoring a five-year, $40 million contract. We've yet to learn exactly how this happened.

Probable Cause, But Not Guilty

After he was officially sentenced to life in prison for the first-degree murder of Odin Lloyd (2013), Hernandez was tried again in the case of Daniel de Abreu and Safiro Furtado (2012). Despite police discovering at Aaron's cousin's house the missing car in the unsolved double murder in Boston, he was found not guilty.

Abatement By Death

If a defendant dies while appealing their conviction, their conviction is vacated. Abatement remains the law in the Commonwealth of Massachusetts, which is presumably why Hernandez committed suicide — allegedly to protect and provide for his daughter and fiancée. (In the same doc, Hernandez expressed to a close friend he did not miss his freedom, only his child.) But the Supreme Judicial Court ruled the law outdated and Hernandez was reinstated as a convicted murderer posthumously. 

Chronic Traumatic Encephalopathy (CTE)

Boston University professor of neurology and pathology Dr. Ann McKee asserts Hernandez's tragic end is a direct result of his undetected CTE: "For an individual who was only 27 when he died, he had a very advanced disease. Not only was it advanced microscopically – especially in the frontal lobes, which are very important for decision making, judgment and cognition – this would be the first case we've ever seen of that kind of damage in such a young individual. This is substantial damage that took years to develop… these changes have been evolving for over a decade." 

Hernandez Wasn't A Gangster

Heralded as an all-American all-star athlete, Hernandez was born and raised in the suburban town of Bristol, Connecticut, and was admired by his peers and adults alike for his wholesome character and lovable demeanor. Reared by an Italian mother and a first-generation Puerto Rican father, Hernandez was "not raised around drugs or gangs," contrary to popular belief. His father, Dennis Hernandez, also a hometown hero and revered father figure, was a football star in the '70s at the University of Connecticut (UConn).
——

Killer Inside: The Mind of Aaron Hernandez out now.