Obama Says Blacks Are Better Off Now Than Six Years Ago
President Obama ends year-end presser with a question about race.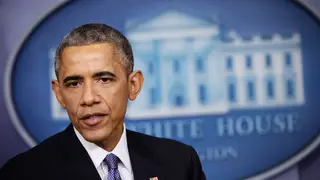 April Ryan of American Urban Radio Networks asks a question at Obama's year-end press conference. (Photo: C-SPAN)
In his final press conference of the year, President Obama called on an all-female lineup of reporters. If he did so because he thought they'd lobby softball questions, he was wrong. And when April Ryan, White House correspondent for American Urban Radio Networks, raised her hand, the president knew a tough one was coming.
What is the state of Black America, she wanted to know.
The president responded that like other Americans, African-Americans are "better off than they were" six years ago thanks to White House initiatives in such areas as jobs, health insurance and housing. But he also recognized the persistent income gap between Blacks and whites.
"I've been consistent in saying that this is a legacy of a troubled racial past of Jim Crow and slavery. That's not an excuse for Black folks. And I think the overwhelming majority of Black people understand it's not an excuse," Obama said. "They're working hard. They're out there hustling and trying to get an education, trying to send their kids to college. But they're starting behind, oftentimes, in the race."
He added that everyone deserves a "hand up," citing early childhood education and affordable college tuition to help push them ahead.
The president also spoke about the state of race relations in America, which he said has been colored by the Michael Brown and Eric Garner cases. He believes that those tragedies have led "the broader population" to recognize that "there are specific instances at least where law enforcement doesn't feel as if it's being applied in a colorblind fashion."
"But I actually think it's been a healthy conversation that we've had. These are not new phenomenon. The fact that they're now surfacing, in part because people are able to film what have just been, in the past, stories passed on around a kitchen table, allows people to make their own assessments and evaluations," Obama said. "And you're not going to solve a problem if it's not being talked about."
"And my intention is to, as soon as I get those recommendations, to start implementing them," he added, through executive orders, and actions taken by Congress and state and local jurisdictions.
BET Politics - Your source for the latest news, photos and videos illuminating key issues and personalities in African-American political life, plus commentary from some of our liveliest voices. Click here to subscribe to our newsletter.