Deshaun Watson's NFL Hearing Is Set To Begin Tuesday
The embattled Cleveland Browns QB faces a lengthy suspension over sexual misconduct.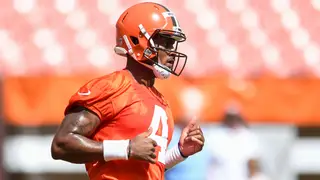 The decision over how much time Deshaun Watson may be suspended for may be made sooner rather than later.
According to CBS Sports, the Cleveland Browns quarterback's NFL disciplinary hearing is slated to begin on Tuesday (June 28). NFL and NFL Players Association's jointly appointed disciplinary officer Sue L. Robinson will reportedly conduct the hearing.
Following Robinson's ruling, both the NFL and NFLPA will have the option to appeal. NFL commissioner Roger Goodell has the option to rule on the appeal, or he can call on an independent ruler.
Watson faces an indefinite suspension that would last no shorter than one year, according to a Wall Street Journal report. The Pro-Bowl QB previously faced 24 civil lawsuits that accused him of sexual misconduct during massage sessions during his time with the Houston Texans. Watson has settled on 20 of those suits and denied any wrongdoing. He was not indicted on criminal charges by two Texas grand juries earlier this offseason.
Earlier this month, The New York Times reported that he used at least 66 different massage therapists during a 17-month period before the first lawsuit was filed against him in March of 2021.