Essence Fest 2022: The Roots, The Isley Brothers, and New Edition Showcased the Continued Power of Hip Hop
On the final night of the New Orleans-based outing, three of the most special live performers put on for the culture in a major way.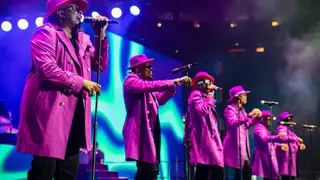 The final day of the Essence Festival of Culture proved just how culturally and commercially important it still is to those who thought that the pandemic was going to make it hard for the New Orleans-based event.

Sunday night, July 3, was a brilliant example with a lot of parts moving in synchronicity with one another. With headlining acts such as New Edition, The Isley Brothers, and The Roots, you may think it hard to overlook the entire bill, but as the night would show, we'll always continue to bet on Black.

The 25th-anniversary celebration of Wyclef Jean's The Carnival album, while not happening directly at the Caesars Superdome, made the Toulouse Theatre equally a place to be. After reuniting with Ms. Lauryn Hill two nights ago at the Essence Fest itself, two-thirds of the iconic hip hop group, The Fugees, did it again and made magic despite longtime fans knowingly not going to see them out on the road this year.

The size of attendance for the pre-Fourth of July outing fell between Saturday's jam-packed escapade with Janet Jackson and the more lightly attended opening night which featured Lil Wayne. In what may have been counted as "less than" by box office nerds, the evening proved just how powerful hip hop has and will continue to be as icons and staples of the culture, The Roots, The Lox, The Isley Brothers, and headliners New Edition proved to be.
RELATED: Roots Picnic 2022: Durand Bernarr, J. Period, DJ Jazzy Jeff & More Celebrate the Culture in Philly

Illadelph's cherished live hip hop band brought out a few famous friends after performing a medley of their most famous hits. Ashanti, who is celebrating the 20th anniversary of her first album, ran through her chart-topping slate of hits made while signed to Murder Inc. From "Happy (Remix)" to "Rock With You (Aww Baby)," the forever fine singer-songwriter left all the '90s babies in awe of her stage presence and celebrated the joy she gave to us all. Her time alongside Questlove and Black Thought was not over, as she stayed on to sing "All I Need" next to the band's next guest: Method Man.
The CEO of Tical Athletics made 50-years-old look like the new 25 while jogging across the stage, even making those in the crowd (see: me) look haggard. Segueing right into "Method Man," from Enter the 36 Chambers, Hot Nikkel wasn't ready to let the audience forget that he, too, was enjoying an anniversary, bringing his Wu-Brother-in-Arms, Ghostface Killah, out to perform "Cherchez La Ghost," a classic that turned 25 back in 2001.

Flipping Dr. Buzzard's Original Savannah Band's "Cherchez La Femme," The Roots interpolated some Bounce music, which had the crowd swinging beads (and possibly flashing Mef and Ghost) as they left the stage.

The Lox followed next with Jadakiss, Styles P, and Sheek Louch delving into their solo and group efforts such as "Knock Yourself Out," "I Get High," and "We Gon' Make It," the latter an undisputed classic when it comes to the tag team, back-and-forth rhyme stylings of 'Kiss and SP the Ghost. To make it a hardcore rap night, the type that Black Thought is no stranger to giving whether on stage or in the booth, the Yonkers MVP Jadakiss brought out his "Who Shot Ya" freestyle, which was a memorable moment from the Verzuz battle between his crew and Harlem's Dipset from last year.
The Roots proved that hip hop is a phenomenon that hasn't lost steam, and to up the ante, they had one more ace up their collective sleeve: Lil Kim.

While playing "It's All About the Benjamins," which turns 25 this year, the Queen Bee buzzed in from stage right to raucous applause and cheers. Her show-stealing verse went right into "Money, Power, Respect," "Put Your Lighters Up," her history-making bars from "Quiet Storm (Remix)," and then closed with "Crush On You," highlighting just how much we're all looking forward to #HipHop50 in 2023.

The night continued to exemplify hip hop's dominance in American culture when The Isley Brothers crooned and grooved with us in a way that was unmistakable and memorable. Singer Ronald Isley's mobility was noted by myself and a few others sitting next to me, but his signature falsetto was just as evocative as ever. From "Fight the Power, Part 1," a much-needed message to those streaming on Hulu from 1975's The Heat Is On and "Between the Sheets," to Ernie Isley's soaring solos on "Summer Breeze" and "Footsteps in the Dark, Parts 1 & 2," everyone in attendance could point out certain samples that were used by artists like The Notorious B.I.G., UGK, and Ice Cube.
Last, but certainly never least was the much-anticipated live experience of New Edition. All of the fellas, including Bobby Brown, were on stage, decked out in their finest wares, and moving in sync to the songs of yesteryear that still feel fresh today. The years of dedication and putting out that sweat equity carried the not-so-old-school group across the finish line for Sunday night's Essence Fest finale.

A blueprint for how the boy band pop phenomenon would go on to push others outside the culture to success, New Edition came out with back-to-back early hits like "Candy Girl" and "Mr. Telephone Man." Brown, specifically, had everyone in a state of euphoria as he broke out into his wildly successful solo run of hits, dancing and sweating through "Roni." Everyone was smooth, excitedly waving to those in the first few front rows, and looked happy to be together. For anyone who had never seen them in their prime or seen the six members onstage at the same time, it was a pleasure to hear their catalog and sing along with everyone in the Superdome for the entire set.
---
Kevin L. Clark is a screenwriter and entertainment director for BET Digital, who covers the intersection of music, film, pop culture, and social justice. Follow him on @IAmKevitoClark.