Lamar Odom 911 Caller Said He Had Recently Used Cocaine
More details on what lead to the former NBA player's tragic condition.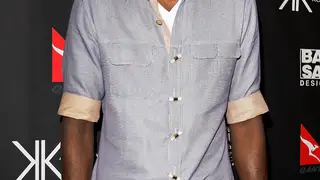 By now, it's clear that Lamar Odom had been partying for days before he was found unconscious in his room at Las Vegas brothel Love Ranch South. But a recently-released tape of the 911 call recieved by sheriffs reveals the extent to which the former NBA player had been abusing drugs.
Two employees of the brothel, Misty and Richard Hunter, dialed 911 and both explained that Odom had blood coming out of his mouth and nose. Hunter also said that the pills Odom had been taking were called "Reload." According to the FDA, they're extremely dangerous. A police report mentioned Odom "had used up to 10 tabs of sexual performance enhancements over a three day period" as well as "cocaine" and that "he was [found] unconscious but breathing and had blood coming from his nose and mouth along with a white substance." 
According to sources, Odom was in critical condition upon arriving to the hospital, and had "a significant amount of cocaine found in his system." He reportedly suffered several strokes throughout the night and is experiencing organ failure. Sources also reveal that Odom has certainly suffered some brain damage, though the extent of it can't be determined at this time. 
Odom's estranged wife Khloe Kardashian has been at his side since she arrived at the hospital Tuesday night, and various members of the Kardashian family, including Kim Kardashian and Kris Jenner, have made their way to his bedside. Odom's former Lakers teammate Kobe Bryant abruptly left a pre-season game in the third quarter upon hearing the news of his condition and rushed to the hospital. Reverend Jesse Jackson also came to offer comfort and prayers.
Though Odom's father Joe Odom arrived in Las Vegas on Wednesday to be near his son, it is not clear if Odom's children Destiny and Lamar Jr., or their mother Liza Morales, are also in the vicinity.
Watch a recap of the sad turn of events for the basketball player and reality star, below:
BET.com is your No. 1 source for Black celebrity news, photos, exclusive videos and all the latest in the world of hip hop and R&B music.