Hol Up! Are We Here For Marvel's New Tupac Shakur X 'Black Panther' Clothing Collab For Foot Locker?
Some fans aren't too happy about them using Tupac's face to sell T-shirts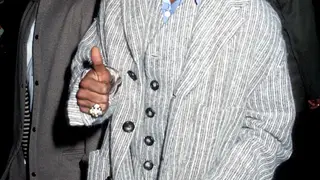 Black Panther was a smash hit for Marvel, and they've decided to do an interesting and unexpected collaboration with another Black cultural icon for a line with Foot Locker.
Marvel made sure not to make the same mistake. On Nov. 9, Tupac Shakur's estate and Marvel Comics announced they would be merging both Tupac- and Black Panther-themed aspects for an exclusive line for POP by Foot Locker.
Check out a sneak peek of the new Tupac x Black Panther below:
OK, these are definitely better than the Jenners' attempt! The nine-piece clothing line will include long-sleeved and short-sleeved tees, snapbacks and hoodies ranging from $25-$50. Some pieces simply just say Tupac and Black Panther while others include afro-print and slogans such as "Wakanda Forever" and "Until the End of Time."
Kendrick Lamar's "Black Panther" soundtrack was definitely a huge part of the hype that brought the late Stan Lee's vision of Wakanda to life. Paul Gitter, Marvel's senior vice president of licensing, even said, "The intersection of music and Black Panther is such of vital part of that property, so it is fantastic to co-brand with an influential artist like 2Pac on a new collection of Marvel apparel."
Some fans are excited about the collaboration and think it make sense since Pac's late mother, Afeni Shakur, was a member of the Black Panther party. Others don't really understand the collaboration at all.
See some confused social media users' response below:
Are you all here for this Tupac X Black Panther clothing line, or do you think it's strange to make money off celebrities who have passed away? Let's us know in the comments!