Wrong Move: Kevin Hart And His Wife Eniko Are Getting Slammed For Their Culturally Insensitive Birthday Party
Kenzo's first celebration rubbed a lot of folks the wrong way.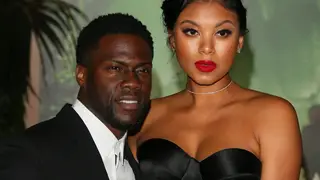 Here we go again, yet another celebrity caught up in the snare of being culturally inappropriate.
On Thanksgiving, comedian Kevin Hart and his wife Eniko Hart held an "Indian and Cowboy," birthday bash for their son Kenzo's first birthday and it's definitely not sitting well with followers.
After Eniko posted a few photos of attendees wearing native inspired shawls, the comment section quickly filled with why it was completely unacceptable.
"Zos cowboys & indians party was nothing but amazing," Eniko captioned the Instagram post. "Thanks to everyone for coming.. we love you guys!"
Photos of the party included an video of the adorable birthday boy enjoying his colorful three-tier cake topped with a teepee. 
Feeling as tho the party was culturally insensitve, fans sounded off. Keep scrolling to see what was said on Twitter:
SMH, definitely not a good look.