FAMU Drum Major Asked to Be Hazed the Day He Died, Report Says
Defendants in Robert Champion's hazing death claim the Florida A&M drum major asked to be hazed as part of "a respect thing."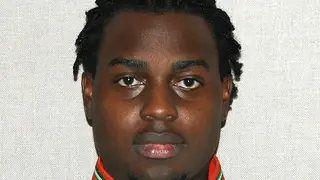 Robert Champion, the Florida A&M (FAMU) drum major whose hazing death on a bus Nov. 19 created a furor in colleges and the nation, wanted to be go through the "brutal initiation ritual," according to the latest evidence released Wednesday by the Associated Press, which entails more than 2,300 pages of evidence. The students present at the time of Champion's death gave prosecutors their testimonials about that fatal day in the report, says the AP:
[He] had asked all season to go through the hazing ritual known as "crossing over," defendant Jonathan Boyce said. Multiple witnesses say the ordeal involved the participant going from the front to the back of the bus while others beat the person.
"It's a respect thing, you know," Boyce told detectives. "Well, he was wanting to do it all ... all season."

Champion died last November after enduring hazing by other band members outside a hotel in Orlando where FAMU had played its archrival in football. His death revealed a culture of hazing in the famed band, which has performed at Super Bowls and presidential inauguration parades. An autopsy concluded Champion suffered blunt trauma blows to his body and died from shock caused by severe bleeding.

Thirteen people are charged with the death of the 26-year-old, prosecutors say; 11 are charged with a third-degree felony and two are charged with misdemeanors.
Pam Champion, mother of the slain student, is not assuaged by the findings and does not believe that her son agreed to be hazed.
"He was murdered on that bus, and no one signs up for that," she said during a news conference after the report was released.
To read more of the evidence released about Robert Champion's death, click here.
BET National News - Keep up to date with breaking news stories from around the nation, including headlines from the hip hop and entertainment world. Click here to subscribe to our newsletter. 

(Photo: Courtesy Florida A&M)