L&HH Star Light Skin Keisha Gets Engaged To Coca Vango— Get An Up-Close Look At The HUGE Engagement Ring! [VIDEO]
We cannot stop swooning over the proposal and the emerald-cut bling!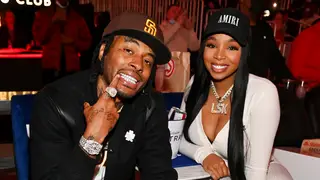 Rappers Light Skin Keisha and Coca Vango are officially engaged! The Love and Hip Hop stars shared the exciting news with heartwarming videos posted onto Instagram. In one clip, Coca proudly went on bended knee to ask Keisha for her hand in marriage. Keep scrolling to see how she responded to the proposal!
Below, check out the video of the special moment.
"Issa fiance! I'm marrying my best frienddddd," the soon-to-be-bride happily captioned the video. Coca posted the same proposal video, along with a caption that read: "Thank you @themintboy for designing this find for my beautiful FIANCÉE!!! She said YES!!!"
Keep scrolling to get an up-close look at the eye-catching engagement ring.
According to Coca's proposal speech, the pair have been "cool" for ten years. They've been in a relationship for almost four years.
Congratulations to the couple on taking their relationship to the next level!