Bald And Beautiful: Snoop Dogg's Daughter, Cori Broadus, Debuts Her Big Chop
"They should've casted me for 'Black Panther.'"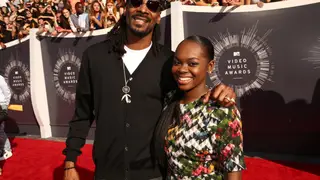 ICYMI: Less than a week ago, we all watched singer Tamar Braxton chop all her hair off in an effort to be "finally free" of people's comments/opinions about her life. Yes, Tamar! 
As of recent, Snoop Dogg's daughter, Cori "Princess" Broadus, took to the 'gram to show off her freshly shaved head with a similar message. 
Ditching her long wigs and weaves for a stylish low-cut, Cori showed off her new look captioning the photo: "Don't be afraid to try new things. My growth is reallllll."
Issa look! See for yourself: 
We can't help but admire the 18-year-old's natural beauty—and from her latest Instagram post, we'd say she's loving it as well!
She captioned her latest flick: "They should've casted me for Black Panther."
Now that it's officially spring, we're totally down to try something new—whether it with our wardrobe or our hair.
But we want to hear YOUR thoughts...how do you feel about the "big chop" movement making its way through Hollywood? Drop a line in the comments below.