Rosie Perez: 'Why Should I Apologize for My Accent?'
The actress on prejudice and Pine-Sol's Women Rise Above It.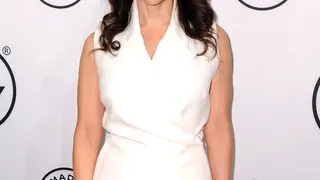 As the title of her memoir says, Rosie Perez has lived an unpredictable life. The actress, author and now talk show host (she currently holds a seat at the table on The View), Perez has seen it all and is always happy to share. That's why she makes the perfect spokesperson for Pine-Sol's Women Rise Above It campaign, a peer-to-peer mentorship program for women around the country. 
In our exclusive interview, Perez talks about the groundbreaking program, and also shares her stories about "rising above it," in particular when it comes to being ridiculed for her Puerto Rican and New York roots.
"It was all worth it," she says of the vilification she faced as a young actress in Hollywood. "I stuck up for myself. For Puerto Ricans, for Latinos as a whole. I never gave up on myself, I never compromised. I never whitewashed myself because of their issues," she adds.
Rosie continues, "Why should I apologize for my nationality, for my accent? I was vilified, but it's OK. It hurt terribly."
To hear more of Rosie's thoughts on racism and gentrification, watch our exclusive interview below. Click here to see more of Perez sharing her thoughts on the Ferguson protests and Do the Right Thing. And don't forget to visit www.WomenRiseAboveIt.com to share your stories — and possibly win one of several cool prizes!

Click here to win a trip to the Super Bowl Gospel Celebration in Phoenix, AZ, plus 4 tickets to the Big Game. 
BET.com is your #1 source for Black celebrity news, photos, exclusive videos and all the latest in the world of hip hop and R&B music.
Click here to subscribe to our newsletter.

 (Photo: Ilya S. Savenok/Getty Images)