Keke Palmer's Boyfriend, Darius Jackson, Criticizes Her Outfit At Usher Concert; Fans Clap Back
The father of Palmer's child doubled down amid backlash.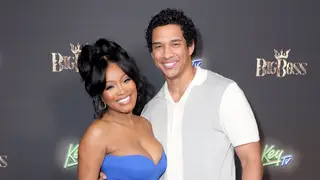 Darius Jackson, the boyfriend of Keke Palmer, ignited a firestorm on social media last night when he tweeted about the outfit Palmer wore to Usher's Las Vegas residency show.
"It's the outfit tho.. you a mom," Jackson wrote on Wednesday—quote tweeting a viral video of the 29-year-old star being serenaded by Usher. Palmer was dressed in a sheer black dress over a matching thong bodysuit.
The tweet was initially met with bewilderment, amusement, and disdain as social media users tried to determine if Jackson's comments were real or a joke.
But Jackson later doubled down with another tweet.
We live in a generation where a man of the family doesn't want the wife & mother to his kids to showcase booty cheeks to please others & he gets told how much of a hater he is.
This is my family & my representation. I have standards & morals to what I believe.
— Darius Daulton (@dvulton) July 5, 2023
The tweet has since been deleted, and Jackson's Twitter and Instagram accounts have been disabled.
Amid the spectacle, Palmer posted on social media but did not address the issue.
"I wish I had taken more pictures but we were running late! I am telling y'all right now, if you haven't seen @usher YOU MUST GO!! HE WAS SO FABULOUS!! Giving theater, Atlanta downnn, tips and tricks and just absolutely iconic," Palmer wrote in a post that featured a carousel of photos, she added, "I was truly inspired as a performer. I whooped some ass in spades too! Where is that pic of us all together with the King himself??"
Usher commented on the post, writing, "The Big Boss!! Thank U for coming 🙏🏾"
The post has received more than 1.4 million likes on the social media channel and more than 30,000 comments.
Palmer announced the birth of her first child on February 27, whom she shares with Jackson. She wrote on Instagram, "Born during Black History Month, with a name to match! LEODIS ANDRELLTON JACKSON, welcome to the world baby Leo."
Most recently, Palmer dropped a 10-track project and its accompanying 40-minute film focus on Keke's personal experiences as an actress and singer in the entertainment business. Big Boss is available on streaming platforms now.