See The Conditioners That Michelle Obama, Kelly Rowland and Taraji P. Henson's Stylists Use
Plus, learn more health hair tips from the pros.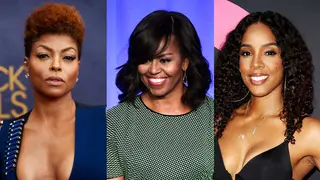 If you dream of shiny, luxurious feeling strands, a conditioner is a no-brainer when it comes to your beauty routine.
On a technical level, conditioners work by smoothing down the hair shaft and providing hydration to to dry follicles. Whereas shampoo opens the hair's cuticle, conditioner seals it back up — locking nutrients in and pollutants out. This in turn strengthens the hair shaft, preventing breakage, split ends, and even hair loss.
To get some pointers, we consulted a talent group of celebrity hairstylists that hair queens like Michelle Obama, Kelly Rowland and Solange trust with their precious crowns. And these hair gurus didn't stop at recommendations, they also gave tips on how to use them. Scroll down to see their expert picks:
Nelson Vercher Says:

Andre Walker Says:

"I developed The TKO Conditioner for hair that needs moisture and protein," explains Andre Walker whose clients include Oprah, Michelle Obama and Halle Berry.

Often, the biggest challenge is finding a formula that works for your specific hair type. Luckily, Andre made his favorite conditioner with kinkier textures in mind. 

"You can speed up penetration by wrapping your hair in plastic and letting your body heat speed up the process, or cover the plastic with a warm towel or heat cap," he shares. "Remember to let the conditioner cool down before rinsing, to allow your hair to hold on to the benefits—and not rinse them down the drain."

Kiyah Wright Says

"Unite 7 seconds is my absolute favorite product ever! It's weightless and it detangles instantly not leaving product on the hair," says Kiyah Wright, who styles Laverne Cox and Tyra Banks' strands.

"You should apply [the conditioner] about three inches away from the head. This conditioner works on all textures — that's the good part," she adds.

Tina Pearson Says:

"My all time favorite conditioner is the my own Vanilla Bean Conditioner," shares Tina Pearson, whose clients include Jill Scott, Debra Lee, and Nia Long.

"You should feel the hair sort of melting as you apply the conditioner," says Tina. "Steaming however is key for optimal penetration."

Tre' Major Says:

"I like Neuma Conditioner because it's super rich and fortifying for coarser textures," says Tre' Major, who works with Mila J, Mary J. Blige and Skai Jackson. 

Tre' recommends conditioning for about 5 to 20 minutes with a plastic cap on while sitting under the dryer.

Cynthia Alvarez Says:

"My favorite conditioner is Oribe Intense Conditioner for Moisture and Control. It's made especially for coarse hair but other textures can benefit from this deep conditioner by using it from midshaft to ends," explains Cynthia Alvarez, who has worked with Keke Palmer, Tatyana Ali and Anika Noni Rose.

Chuck Amos Says:

"I use Pantene Gold Series Moisture Boost Conditioner because it moisturizes the hair to the core," says Chuck Amos, whose clients include Erykah Badu, Tracee Ellis Ross and Gabourey Sidibe.

"Cover your hair with a plastic shower cap to create its own head heat, a greenhouse effect, to really get the most out of your conditioning regimen," explains Chuck.

Felicia Leatherwood Says:

"I love Curls Coconut Sublime Conditioner," says Felicia Leatherwood, who has worked with Issa Rae, Ava Duvernay and Teyonah Parris. "It works on all textures of hair."


Felicia also added that "products with high levels of alcohol or mineral oil should be avoided."

Tym Wallace Says:

"Moisture, moisture, moisture is a must to a great conditioner," explains Tym Wallace, the man behind some of Zendaya, Brandy, and Taraji P. Henson's hair-dos. "I'm actually loving Dove's Quench Absolute Conditioner and Dove Absolute Curls Leave-in Detangler."

Tym recommends steering clear of sulfates and alcohol in various haircare products.

Jawara Wauchope Says:

"I love the Davines Oi Oil Conditioner, with a heating cap it conditions the hair very well," says Jawara Wauchope, who styles Solange's hair.  

Larry Sims Says:

"I prefer Gliss Oil Nutrive because it gives the hair great moisture and shine," says Larry Sims, the hairstylist behind Sanaa Lathan and Ayesha Curry's beautiful locs.

Larry also mentioned that women of color should embrace natural ingredients such as argan, tea tree and coconut oils.

Amoy Pitters Says:

"I can't get enough of Rene Furterer's Karinga Mask," says Amoy Pitters, whose clientele includes Joan Smalls, Chanel Iman and Camilla Alves. "It works well with dry hair and restores the strength of the hair."

If you really want to penetrate the hair shaft, 10 minutes under a warm towel should do the trick.