Bad Blood? Taylor Swift Calls Out Nicki Minaj Over VMAs Rant
The rap queen can hold her own.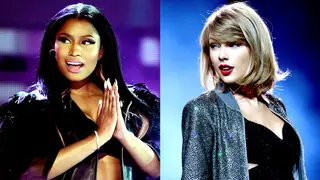 I bet you think this rant is about you, don't you, don't you...
Earlier today 2015 VMA nominations were announced and Nicki Minaj's "Anaconda" was noticeably absent from the Video of the Year category and her collaboration with Beyonce, "Feelin' Myself" got zero love. So, yes, we were all left scratching our heads and wondering what gives — all of us, even Nicki.
Fast forward a few hours later and Minaj took to Twitter to vent about the fact that the game is political, and, well, she let it be known that she knows what she deserves, but that she knows the game too, mentioning that if she was a "different 'kind' of artist" that "Anaconda" would have gotten the nod it deserves. She mentioned how influential the video was in pop culture with remakes of the cover art spreading like wildfire last year and even having Ellen Degeneres remake the music video in her own special way. 
And just after mentioning the fact that Black women's influence on pop culture is often times overlooked, she tweeted the below and then Taylor Swift stepped in.
So, as you can see, Taylor jumped to conclusions that a lot of #BlackTwitter sees as her feminism finding a bias rooted in race even if she doesn't see it. Others are calling it straight up white privilege talking, especially after she said that if she wins, Nicki can join her on stage as if Nicki needs any favors. But no matter how you see it, the entire situation and the knowledge that Nicki has been spitting for a few hours went right over the pop diva's head.
Too bad, so sad. 
Nicki's the queen of rap right now, she knows it, and her speaking her mind doesn't make her angry, it makes her the bold woman that she is and that we love. And today she taught everyone that if you can't take the heat then you best stay out of the kitchen because her show stops for no one.
BET.com is your No. 1 source for Black celebrity news, photos, exclusive videos and all the latest in the world of hip hop and R&B music.
(Photos from Left: Ethan Miller/Getty Images, Sascha Steinbach/Getty Images for TAS)