The Couple Who Tragically Jumped To Their Death Didn't Do It Over Healthcare Costs
An NYPD spokesman claimed there was no mention of medical-cost struggles in their suicide notes.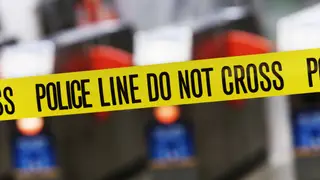 It had previously been reported that the Manhattan couple, who jumped to their death leaving behind their two kids, did it because of rising healthcare costs under Obamacare. Well, the conservative crows who made that story up can shove it, because an NYPD spokesman says that there was no mention of healthcare-cost struggles in either suicide notes that were left behind.
According to the New York Post, the notes did mention that they wanted their two children to be taken care of and admitted that they were in a "financial spiral."
The bodies of 53-year-old Glenn Scarpelli and his wife, 50-year-old, Patricia Colant, were discovered in the middle of the road on 33rd Street between Park and Madison avenues in Murray Hill. Scarpelli was a chiropractor who had his practice on the same floor the couple had tragically jumped from.
The pair reportedly jumped from the ninth-floor window of a 17-story office building at around 5:45 am on Friday (July 28). Sources say the suicide note mentioned that the couple "had everything in life" but could "not live with" the "financial reality" that their life became.
Public records showed that Glenn owed around $213,000 to the federal government and nearly $42,000 to the state in unpaid taxes dating back to 2003.