Megan Thee Stallion Explains How She Continuously Levels Up
"Iron sharpens iron. I feel like I'm the iron sharpening the iron."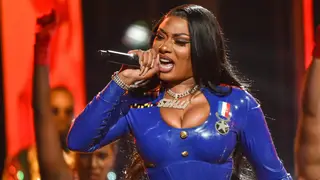 Megan Thee Stallion has opened up on the competitive drive that has made her one of the biggest rappers in the music industry. 
Speaking with Big Boy, Megan detailed what constantly pushes her to be bigger and better than ever, and it's a competition with a surprising person: herself. 
"I'm always trying to figure out, 'How can I be better than Hot Girl Meg? How can I be better than Tina Snow? How can I be better than Megan Thee Stallion?'" she said.
 "I'm trying to beat myself. Like, 'OK, that project was lit. Let's beat it,'" she continued. "I'm always in competition with myself because that's how I feel like I'm going to grow. Iron sharpens iron. I feel like I'm the iron sharpening the iron."
Elsewhere in the interview, Megan also discussed how women who rap are often criticized for being overtly sexual in their music. 
"Nobody is gonna be able to intimidate me into not being Megan Thee Stallion," the rapper said. "I'm going to talk about what I want to talk about. At the end of the day, I'm me. Honestly, you have a very big choice: You either listen to [my music] or you don't listen to it. It's not hard."
"Whatever I'm doing should not affect your day," she continued. "If you don't like this type of music, you ain't got to listen to it. Ain't nobody asks you to feel it. Ain't nobody asks you your opinion. This is hip-hop music."
Megan recently released her debut studio album Good News. Along with its release, she shared the video for "Body" that starred one of her biggest fans, actress Taraji P. Henson.
Yesterday (Nov 24), Megan was announced as a nominee for Best New Artist at the 2021 Grammy Awards.
Check out Megan's conversation with Big Boy up above.