Kevin Hart Defends Ellen DeGeneres During TV Show Scandal
"She has treated my family and my team with love and respect from day 1."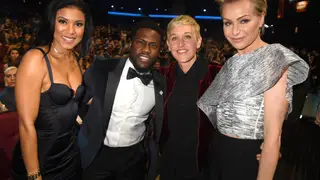 Comedian Kevin Hart is defending his friend Ellen DeGeneres whose daytime talk show is currently under investigation following multiple allegations saying that the show maintained a toxic and hostile workplace environment. 
Sharing his thoughts on his Instagram on Tuesday (August 4), Hart said that DeGeneres has always been nice to his family and has known the Emmy-award winning host for years. 
"It's crazy to see my friend go thru what she's going thru publicly," Hart opened his post with. " I have known Ellen for years and I can honestly say that she's one of the dopest people on the f***ing planet. She has treated my family and my team with love and respect from day 1."
Hart went on to say that the internet has become a world of negativity that is "falling in love with people's down fall." 
"I stand by the ones that I know and that I love," he continued. 
DeGeneres stood by Hart last year when he faced controversy over his past homophobic tweets. Hart publicly stepped down from hosting the 91st Annual Academy Awards, back in early December 2018, from the Twitter scandal. 
Concluding his post, Hart explained that his comments on the allegations were not to disregard "the feelings of others and their experiences," but to share what his experiences with his longtime friend.