Damar Hamlin Responds To Rumors That He Secretly Died From The COVID Vaccine
Buffalo Bills quarterback Josh Allen also blasted the conspiracy theorists.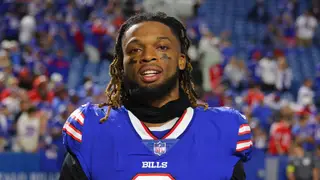 Buffalo Bills safety Damar Hamlin nearly died earlier this month aftering a tackle that resulted in cardiac arrest. Thankfully, he is now recovering, but almost like clockwork, conspiracy theorists are spreading rumors that the 24-year-old is dead from the vaccine and that there is a body-double posing as him.
On Jan. 22, Hamlin made his first public appearance at a game against the Cincinnati Bengals. However, for some people, there was something insidious behind his appearance. A verified Twitter user named Jack Posobiec, with over one million followers, tweeted, "Why didn't the NFL let us see Damar Hamlin's face?" The tweet has four million views.
A blue check outlet named Vidmax.com tweeted, "I'm sorry, but this Damar Hamlin episode at the Bills stadium is beyond suspect. Why wasn't his family with him in the box and why did he never take his ski mask off? WTF is going on here?" The tweet included the hashtags #bodydouble, #damarhamlim, #conspiracytheory and #VaccineDeaths.
Another verified user named Andrew Rose, whose twitter bio reads, "MAGA. Republican. Patriot. Proudly unvaccinated," tweeted, "Damar Hamlin died from the vaccine. The NFL faked his injury for a money scheme and to shut down the narrative. That's why they refuse to show his face. Wake. Up." He also accused Hamlin of using "Illuminati signs."
Hamlin is taking the ludicrous conspiracy theory in stride, he tweeted, "Clone" with a photo of himself.
Bills quarterback Josh Allen also blasted the lies, saying on Kyle Brandt's Basement podcast, "So yes that was Damar. There's absolutely zero chance, there is absolutely zero chance. He's Damar Hamlin. That's our guy. That's our brother. He was with us — pregame, postgame. He was up in the suite with his family, his little brother, 100 percent. So people need to stop that s**t."
In case you missed it, on Jan. 2, the sixth-round draft pick made a routine tackle against Cincinnati Bengals wide receiver Tee Higgins. Hamlin stood up when the play ended but collapsed on the field seconds later. He received CPR for approximately minutes before being transported to the University of Cincinnati Medical Center in critical condition. Although he suffered lung damage and his heart was resuscitated twice, Hamlin survived. He was discharged from the hospital on Jan. 11 and fans are hoping he will make a full recovery.
Just yesterday (Jan. 24), Damar Hamlin tweeted, "Thankful for all the GENUINE love, thoughts & prayers from all across the world.. y'all will hear from me soon!"