Damar Hamlin Released From Cincinnati Hospital To Continue Recovery In Buffalo
The Buffalo Bills player is now in the 'next stage' of what is by all accounts an amazing recovery.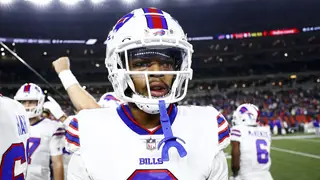 Buffalo Bills defensive Back Damar Hamlin was released Monday (Jan. 9) from the University of Cincinnati Medical Center and is now in Buffalo, one week after suffering a cardiac arrest during a NFL Monday Night Football game in Cincinnati, the Bill announced.
"He is doing well and this is the next stage of his recovery," the statement read.
The Bill's 24-year-old, sixth-round draft pick appeared to make a routine tackle in the Monday night game against Cincinnati Bengals wide receiver Tee Higgins. Hamlin stood up when the play ended but collapsed on the field seconds later. Medical personnel rushed onto the field and performed life-saving CPR.
Hamlin's uncle, Dorian Glenn, revealed days later after that his nephew suffered lung damage and his heart was resuscitated twice.
Prayers for Hamlin's recovery went up from the football players on the field, fans in the stadium and from people across the nation.
Those prayers were answered. On Jan. 5, Hamlin's doctors said he was showing "remarkable improvement" after he was under sedation and breathing through a ventilator. By the evening, he was awakened and able to grip people's hands. By the next day, the former University of Pittsburgh Panthers college football star was able to breathe on his own, walk, eat regular food and undergo therapy, The Associated Press reported.
"We continue to be ecstatic about his recovery," Dr. Timothy Pritts said, according to The AP.
On Jan. 8, while still in the hospital, Hamlin was jumping around and yelling when his teammate Nyheim Hines ran back the opening kickoff in the Bill's 35-23 win against the New England Patriots, setting off "every" alarm in the ICU, local station WIVB reported. But a doctor said he was OK and just reacting to an exciting play.
"There is no reason to believe he won't continue his path to recovery," one doctor said, adding that it was too soon to determine if he can play football again, according to WIVB.