Five Connecticut Officers Charged After Man Was Paralyzed In A Police Van
Randy Cox is only 19 years old.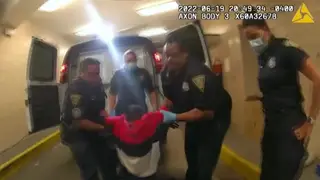 Five police officers in New Haven, Connecticut, have been arrested and charged after a man was paralyzed from the chest down following a ride in a police van.
According to CBS News, on June 19, Randy Cox, 36, was arrested on June 19 on suspicion of illegally possessing a handgun. Viral video showed a handcuffed Cox in a police van, wearing no seat belt. When the driver of the van made a sudden stop to reportedly avoid a crash, he slid and hit his head into the back wall of the vehicle. Police footage shows Cox repeatedly asking the police officers for help. Cox is heard saying he cannot move and thinks his neck is broken. When arriving at the detention center, officers demanded he sit up or get off the van floor, which he couldn't. The officers also make jokes that Cox was faking it or may have been intoxicated.
Officers eventually placed Cox in a wheelchair, but Cox wasn't able to remain seated in the chair. The officers dragged the teenager from the wheelchair and across the floor into a holding cell. He was then placed against a bed.
The officers, who have been on administrative leave since last summer, have been identified as Officers Oscar Diaz, Ronald Pressley, Jocelyn Lavandier, Luis Rivera, and Sgt. Betsy Segui. According to a news release, the officers were charged with second-degree reckless endangerment in violation of Connecticut General Statutes and cruelty to persons in violation of Connecticut General Statutes. They were released on $25,000 bonds and are scheduled to appear in court on December 8, 2022.
Cox, who is represented by attorney and civil rights activist Benjamin Crump, filed a federal civil suit on September 27. Crump said in a statement after the arrests, "It is important - when you see that video of how they treated Randy Cox and the actions and inactions that led to him being paralyzed from his chest down - that those police officers should be held to the full extent of the law."