Spurs Coach Gregg Popovich Had The Most Woke Explanation For White Privilege
He also explained why white people need to feel "uncomfortable" for change to happen.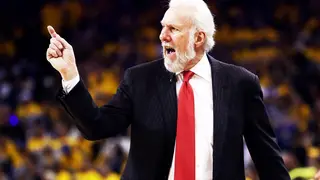 Gregg Popovich can be blatantly dismissive of the media, but when he's asked an important question over a socially conscious issue, the San Antonio Spurs' coach routinely serves up woke answers to remember.
Yesterday was one of those occasions, as Pop called the United States under Donald Trump's presidency "an embarrassment to the world." But it was what the legendary hoops coach said about white privilege that reinforced the notion that Popovich is hands-down the most-woke coach in all of sports.
"I'm an individual. I live in this country. I have a right to say and do what I want. It has nothing to do with my position," Popovich, 68, told the media Monday, as reported by ESPN. "Obviously, race is the elephant in the room, and we all understand that unless it is talked about constantly, it is not going to get better. People get bored, 'Oh, is it that again? They are pulling the race card.' Because it's uncomfortable, there has to be an uncomfortable element in the discourse for anything to change. Whether it is LGBT, women's suffrage, race, [it] doesn't matter. People have to be made to feel uncomfortable; especially white people. We still have no clue what being born white means."
Pop added: "If you read some of the recent literature, there is no such thing as whiteness. But we made it up. Not my original thought, but it's true. Because you were born white, you have advantages systemically, culturally, psychology there. They have been built up for hundreds of years. Many people can't look at it. [It] can't be something on their plate on a daily basis. People want their status quo. People don't want to give it up. Until it's given up, it's not going to be fixed."
Pop is woke AF out here. And we appreciate him taking a stand and saying what needs to be said and heard loud and clear.
BET Sports News — Get the latest news and information about African-Americans in sports, including weekly recaps, celebrity news and photos of your favorite Black athletes.