Wendy Williams Will Face Her Toughest Critic After HBCU and NAACP Comments
The talk show has been in hot water since last week.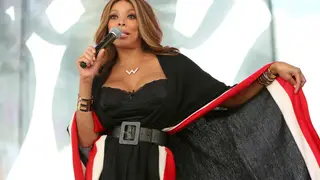 Wendy Williams has received some major backlash following her offensive comments where she denounced both HBCUs and the NAACP. Now, almost a week later, she is set to fully address her claims on her show alongside one of her biggest critics since the incident: Roland Martin.
She started this morning's show sending her condolences to the recent victims of police brutality, Alton Sterling and Philando Castile, as well as the victims of the Dallas shooting.
"It's been a very rough week for the entire country," she said. "I want to send my sincere condolences to the Black men who lost their lives at the hands of the police but also to the five innocent officers who were killed in Dallas. It's just very sad. It's a time where we all need to come together."
Addressing the criticism she's received for her anti-HBCU and anti-NAACP comments, she added, "Over the past few days, if you don't know, I've been facing some really harsh criticism from our viewers and other people in the media because of my comments regarding racism. One of my biggest critics was a journalist and activist Roland Martin, who I've known for several years, but he did what he thought he had to do."
The talk show host said she spoke with him over the weekend and even invited him to her show to continue their dialogue, to which he agreed.
"I reached out to him over the weekend and we had a very interesting conversation on the telephone regarding race and so I said, 'You know what? Why don't you just come to the show?'" she said. "So I've invited Roland to the show. He will be here to have open dialogue. Roland will be here on Thursday, so I look forward to this.
Admitting that the News One Now host seemingly enlightened her on why her comments were problematic, she said she hopes he can do the same for those who shared her sentiments: "He's educated me quite a bit and I hope you can do the same for all of us and we can begin to heal and stop."
Recap another moment when the talk show host got dragged by social media in the BET Breaks video, above.