See Khloe Kardashian's 8-Step Guide to Keeping Her Vagina Healthy
And yes, of course it's expensive.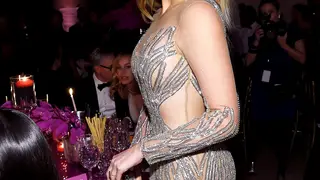 Leave it to a Kardashian to have a vaginal beauty routine! Khloe Kardashian gets real about the more intimate parts of her revenge body on her app. She recently wrot a blog post titled, "8 Ways to Keep Your Lady Bits Happy," where she breaks down how to keep your "lady parts "fresh and looking $."
While Khlo Money isn't a gyno (remember, as we learned in health class, the vagina is self-cleaning already), if you are slightly curious about her feminine hygiene and want to give it a whirl, then scroll down to shop the products she swears by.
We promise we're not judging. OK, OK…we are. But that still shouldn't stop you from doing you Khloe style.
Are you, and your pockets, ready to practice feminine hygiene like this?
Elvie Kegel Exerciser and Pelvic Floor Muscle Exercise Tracker ($199)

Think Fitbit, but for your vagina. Khloe tracks her kegel progress in real time with this pricey device. The app it connects to via Bluetooth is free, so there's that.

Black Glass Ben-wa Balls (Small $10.99, Medium $13.69)

GoodWipes: Cleansing Flushable Wipes for Down There (30 Count, $8.90)

Medicine Mama's Apothecary Vmagic Vulva Care and Intimate Skin Cream (2 oz. $24.99)

Shaveworks The Cool Fix (2 oz, $15.69)

"Use this soothing gel between [waxing and shaving] sessions," Khloe instructed. "The delicate down-there skin can get angry." She claims the calming lotion will help prevent ingrown hairs between sessions.

Renew Life Ultimate Flora Women's Probiotic (30 Count, $15.95)

Summer's Eve Cleansing Wash for Sensitive Skin (15 oz, $6.29)

"I think every girl should have Summer's Eve wash in her shower," Khloe shared. As the cheapest of Khloe's faves, this pH-balanced wash can be purchased at Walmart.

Vajacial ($75 per treatment)

Gwyneth Paltrow has her V-steams, Khloe has her Vajacials, which are basically like facials but for your hoo-ha. The 50-minute procedure is recommended after a wax to soothe irritated skin for an ultra-pampering experience. Look for a spa that specializes in this particular treatment.