Black Girl Now Says She Lied About Three White Classmates Cutting Her Dreadlocks, UPDATE
Amari Allen and her family met with school administrators to issue an apology.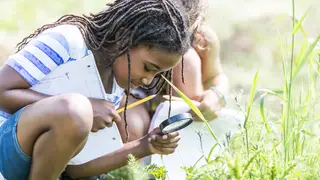 Last week, it was reported that a young Black girl had been the victim of another case of racist bullying. 
Amari Allen accused three of her classmates of pinning her down and cutting her dreadlocks, but now NBC Washington reports the 6th grade girl confessed to lying about the incident. 
Upon further investigation into the alleged events that took place at Immanuel Christian School, security footage revealed Allen's story could not be true according to the time and place she said the incident occurred. 
Allen and her family met with school administrators to issue an apology. 
"To those young boys and their parents, we sincerely apologize for the pain and anxiety these allegations have caused," the family said in a statement. "To the administrators and families of Immanuel Christian School, we are sorry for the damage this incident has done to trust within the school family and the undue scorn it has brought to the school."
Immanuel Christian School issued a statement as well in light of the recent findings.
"While we are relieved to hear the truth and bring the events of the past few days to a close, we also feel tremendous pain for the victims and the hurt on both sides of this conflict. We recognize that we now enter what will be a long season of healing."
Three white middle school boys allegedly pinned down a Black girl classmate and cut off some of her dreadlocks while saying her hair was "nappy" and calling her "ugly," reports ABC news. 
Amari Allen, 12, is a student at Immanuel Christian School in Fairfax, VA. The sixth-grader told NBC News4 the incident involving the three boys, who she said are white, happened Monday (September 23). 
Karen Pence, the wife of Vice President Mike Pence, is a part-time teacher at the Christian school, NBC News4 reports, but it's unclear if she was teaching on the day of the incident. The girl's family did not see any connection to Mrs. Pence and the attack.  
"They said my hair was nappy and I was ugly," Allen recalled. "They put their hands over my mouth."
Allen is a straight-A student and violin player. She's attended the school since kindergarten. On Monday, while at recess, she was about to go down a slide when the three boys allegedly attacked her. 
"They put my hands behind my back," she said, adding the third boy pulled out scissors, "and they started cutting my hair and saying it was ugly." 
'I shouldn't have been born.' They called me an 'attention-seeker.'"  
About five minutes into the assault, Allen says the boys stopped and ran off laughing when the bell rang and she stayed sitting there. Allen remained silent about the whole encounter for two days, News4 reports. 
It wasn't until her grandmother Cynthia Allen noticed strands of her hair missing on Wednesday (September 25) when she finally broke down and shared what had happened to her a couple of days before. 
Initially, Amari denied anything happened for fear of retaliation, but then told the whole story. 
Her grandmother took it especially hard, telling News4, "It was like she just died. That's how painful it was for me."
Allen's grandfather, whose name was not released, echoed Amari's grandmother's sentiments.
"My heart just broke," he told News4. "I was just paralyzed. I couldn't get myself together." 
The family reported the incident to Fairfax County police immediately after Amari told them what happened. They've decided not to send her back to school until the boys are punished, according to News4. 
"Some consequences should be implemented so that the school will send a strong message: We will not tolerate this, under any circumstances," Cynthia told News4. "No matter who you are." 
Cynthia told ABC7, "Where were the teachers, administrators. Where was anybody to protect her from this heinous crime?"
The Head of School, Stephen Danish, also agreed with the devastation Allen's family felt and said the school's administrators were "deeply disturbed by the allegations," according to News4. 
"We take seriously the emotional and physical well-being of all our students, and have a zero-tolerance policy for any kind of bullying or abuse," Danish said in a statement following the incident. 
"We are deeply disturbed by the allegations being made, and are in communication with the family of the alleged victim to gather information and provide whatever support we can. We have also reached out to law enforcement to ask them to conduct a thorough investigation, and further inquiries should be directed to the Fairfax County Police."  
"I sometimes think that I don't deserve to be there and I'm ugly," Amari told WUSA about the private K-11 school, where she said she's been bullied for weeks by the same three boys who have taken her school lunches and called her names.
School officials met with the family on Thursday (September 26) morning to address the matter, WUSA9 reports. There's no determination whether the alleged bullies will face any consequences for their actions. 
"It's very painful," Cynthia told WUSA9. "I want to see them dismissed from the school." 
Cynthia added, "I want to see something done. I want to see whatever the policies are for bullying. I want to see them implemented because apparently they're not being implemented."
The school, which Amari's family was paying $12,000 a year for her to attend, outlines a strict no-bullying policy in their parent-student handbook, which includes "four fundamental guidelines for social interaction among students." 
The four guidelines all ICS students are encouraged and expected to follow include:
Never leave anyone out by deliberately excluding them from the group.
Never harm others intentionally with words or actions.
Never tolerate bullying by ignoring it or allowing it to continue.
Always report bullying to the classroom teacher. 
In the handbook, the school defined bullying as: "The deliberate use of power to dominate, intimidate and harm another person physically and/or emotionally over an extended period of time with no significant provocation or justification."