Lee Daniels Just Got a Huge Win for Empire
The Oscar nominee is clearly celebrating.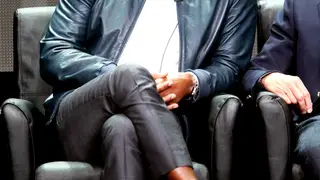 This is turning out to be a great week for Empire creator Lee Daniels, in addition to season two's mid-season premiere, the director scored another win. This time, he won a suit which claimed the show hijacked someone else's idea.
According to TMZ, a guy named Jon Astor-White was left defeated after a judge shot down his lawsuit claiming his idea for a show originally called King Solomon was turned into Empire. Astor-White says his show was about a Harvard-educated Black man who started a record label. 
His first wrong turn came when he said he shopped the show around to some of Hollywood's big names, but none specifically connected to Empire. The judge saw this as the first red flag. In a federal court ruling this week, the judge pointed out that he had no contact with any of Empire's show runners, and even noticed no major similarities between his show and Daniels's.
One of the major differences being that Astor-White's show was clearly absent of a Cookie character and his "Lucious" character was not terminally ill. The judge even found offense in Astor-White's justification that his lead character's daughter was similar to Lucious's gay son, Jamal, because "both [are] associated with the feminine gender."
Dismissing the entire case, the judge said, "The court rejects this outdated and offensive stereotype."
Watch Empire favorite Taraji P. Henson make Golden Globe history in the BET Breaks video below:
BET.com is your No. 1 source for Black celebrity news, photos, exclusive videos and all the latest in the world of hip hop and R&B music. 
(Photo: Frederick M. Brown/Getty Images)