Taylor Swift Says She Never Heard Of Girl Group 3LW
The country singer is responding to the lawsuit regarding her single "Shake It Off" and the 2000s hit "Playas Gon' Play."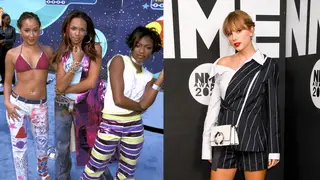 Country music artist Taylor Swift is defending herself and her 2014 single "Shake It Off" after a lawsuit claims that she plagiarized the lyrics from girl group 3LW's 2000 track "Playas Gon' Play."
According to PEOPLE, R&B songwriters Sean Hall and Nathan Butler, filed the suit against Swift back in 2017 and alleged that her lyrics, "'Cause the players gonna play, play, play, play, play / And the haters gonna hate, hate, hate, hate, hate," were stolen from 3LW's "Playas Gon' Play," which features the lyrics, "The playas gon' play / Them haters gonna hate" and "Playas, they gonna play / And haters, they gonna hate."
In a new declaration filed on Monday (Aug. 8), the  "Bad Blood" singer shared the never heard of the popular girl group 3LW which featured Adrienne Bailon, Kiely Williams, and Naturi Naughton, or their single.
"Until learning about Plaintiffs' claim in 2017, I had never heard the song 'Playas Gon' Play' and had never heard of that song or the group 3LW," said Swift.
The 32-year-old also says that she wrote all of the lyrics to "Shake It Off" and added that the hit is "about independence and 'shaking off' negative personal criticism through music and dance."
"Prior to writing 'Shake It Off,' I had heard the phrases 'players gonna play' and 'haters gonna hate' uttered countless times to express the idea that one can or should shrug off negativity," Swift explained.
While the lawsuit was dismissed in 2018 saying that the lyrics were "too banal" to be plagiarized, an appeal panel reopened the case in 2019 after a judge believed that both songs had "enough objective similarities" for the case to move forward.
"Playas Gon' Play" was released on 3LW's self-titled debut album on Dec. 5, 2000. The song — which peaked at No. 81 on the Billboard Hot 100
Listen to both tracks below: