Meek Mill Tweets Support For B. Simone Amid Plagiarism Scandal
He is defending the author against accusations she stole others' work.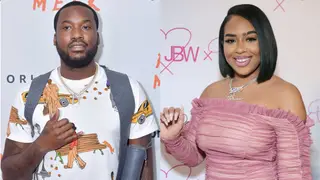 Meek Mill took to social media on Sunday (June 14) to defend B. Simone over allegations that she plagiarized passages of her book Baby Girl: Manifest the Life You Want.
"B Simone canceled because she finnesed a book and made her way from the bottom lol what major companies y'all cancel for ripping our culture off? finding ways to display hate towards our own when they start doing good is showing amongst us a lot!" he said in a series of tweets.
Boss Girl Bloggers called out Simone on Saturday (13 June). "Would love for @TheBSimone to STOP taking small content creators' hardwork and selling it as her own!!! Disgusting. This is not entrepreneurship. This is PLAGIARIZING," the allegation states.
Some responses to Meek's tweet criticized Simone for ripping off the work of other including people of color.
Simone did not immediately respond to the allegation against her authorship.