Red Bull BC One: Breaking For Gold Takes Los Angeles For A Spin
Breakers delivered versatile moves as the world-renowned competition recognized hip hop's impact ahead of the 2024 Paris Games.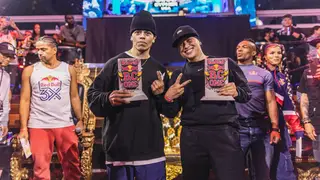 The countdown to hip hop turning 50 years young has every fan and practitioner gearing up to celebrate the closer we get to 2023. And in Los Angeles, which has its own storied history with the culture, the scene is filling up with more and more advantageous events for people to get into—none as exciting as the prestigious Red Bull BC One breaking competition.

As one of the five pillars that make up the tenets of hip hop, b-boys, and b-girls descended upon the City of Angels to witness who will make it to the Red Bull BC One World Final, where only one breaker will be crowned champion this November in New York City. With winners of the regional cyphers held across the country from Philadelphia to Orlando to Seattle, 32 competitors descended upon Eden Hollywood to battle it out for bragging rights, the National Championship title, and a chance to possibly represent Team USA as breakdancing will be a competitive sport for the first time at the Paris Olympic Games in 2024.

"Every breaker does not have the Olympics on their wish list," shared Olympic hopeful Carmarry "Pep-C" Hall with BET.com. The Indianapolis-based dancer, who took home the W at the Red Bull BC One Cypher East in Philadelphia in August, decided to ramp up her training after the International Olympic Committee announced in December 2020 to include breakdancing as a new sport. "The Olympic journey is something a small segment of the community is interested in," she added. "For those who are interested in the Olympics, it's a dream come true. For me, it's about representation and opportunity. There are not many women breakers. There's even less [when it comes to] Black women breakers. Being on that stage is about displaying the pride I have in the culture we have created here in the USA."
Judged by a panel of respected figures within the breaking and hip hop community, legends such as Asia "Asia 1" Yu, Fabiano "Neguin" Carvalho Lopes, and Omar Davila, the latter who won the first Red Bull BC One World Championship in 2004, were on hand to ensure that the knockout bracketed competition would result in one b-boy and one b-girl representing the USA at the Last Chance Cypher during the Red Bull BC One World Final in New York on Nov. 11. With wild-card hopefuls such as Sunny, Rascal Randi, Mace, and Snap1 on hand to make competition fierce, Eden Hollywood felt like the culture was vaulted to a grander stage meant to impact people all around the world.

"[To be at a Red Bull BC One competition] feels empowering and energizing when you see the crowd and spectators give an organic reaction to my performance," said Pierry "Sweet P" Louis in a chat with BET.com. "In most events, I tend to feel that by being a master of my craft I can project my talent on an even greater stage to have an impact on people near and far." And with the 2022 Red Bull BC One season intended to celebrate the communities that keep the torch lit for hip hop, the culture enjoys these two new milestones, while these breakers honor these pivotal timestamps by paying tribute to breaking and showcasing to the world that it is still an intrinsic element of hip hop culture. From its humble beginnings in the South Bronx as a safe way to battle and exhume the pressures that came with living under systemic duress, the art form developed into a very athletic and intricate style that has evolved and been refined by countless performers worldwide.
Much like in New York, the performers out in L.A. are rich with imagination, superhuman flexibility, grace, and a braggadocious motif that is only displayed by those who have it. Being a true breaker is a status earned not only by traveling, cementing a rep, and beating the best, but through embodying your surroundings, your community, and studying the art form in an elevated way. "[This moment at Red Bull BC One in L.A.] means that while being streamed live for others to see, breaking will be practiced by more people, [and] its value may go up in the eyes of the public while offering career-building opportunities to its practitioners," Pep-C said. "Those who have always practiced breaking will honor tradition even through its growth, and [continue] to resist against too much regulation and change."
It is a fear that most veterans and avid supporters feel can happen as this thing we love called hip hop hits its golden stride. Amidst the current back-and-forth between elder and current generation hip hoppers who all benefit from the globalization of the culture, the worst-case scenario with breaking is that it will become commodified into an advertisement jingle or watered down into a showcase that only benefits Fortune 500 companies, instead of giving back and serving those who need, live, and survive from it.
Eden Hollywood was packed to the brim with an audience that was ready from the gate to see uprocks, air flares, Taisuke Criticals, and more from their favorite breakers. Understanding that the moves and performing it all stemmed from the imaginations of young kids who in the beginning called 1520 Sedgwick Avenue "The Mecca" was (and still is) important. And it continued there, at the Red Bull BC One breaking competition in Los Angeles, as b-girl Sunny and b-boy Ali would present a dazzling array of moves to win their respective brackets at the cypher and earned the right to represent the USA, when the championship final streams on ESPN+ on Nov. 12.
With the 19th edition of the Red Bull BC One World Final coming home to hip hop's birthplace in New York City—a first in about 13 years—the moment arrives at a turning point in the culture and in breaking history, which will culminate in #HipHop50, a momentous occasion to honor the past, present, and future of the culture and breaking. For both Pep-C and Sweet P, the message they wanted others inside and outside of the landmark moment to appreciate resonates in the continuation of heritage, honor, and respect.

"Hip hop's origin was and is about resistance and revolution using the art of the people," Pep-C said. "It's obvious that hip hop was created because of the environment in the Bronx, [but] at the same time, those kids weren't activists. I [am] celebrating hip hop's achievement by remembering our history, searching for new stories, and boosting the love and value of Black art. [Hip hop] is Black art that is valuable. Period!"
Sweet P adds, "With breaking going into the Paris Games, hip hop will become a giant 'I told you so' to those who thought this culture was just a fad. I plan to celebrate by sharpening my skills as a dancer and having a positive impact on those around me. No matter what anyone does [outside of hip hop], it is important that we continue to believe in each other and ourselves, because [breaking and hip hop] is just as big as sports and entertainment, and I hope that it will have a massively positive impact on people and our communities."
---
Kevin L. Clark is a screenwriter and digital media specialist, who works at the intersection of music, film, Black pop culture, and social justice. Follow him on @IAmKevitoClark.