EXCLUSIVE: Why Master P Measures Success In Action And Not Dollars
The No Limit Records founder is on a mission to educate and empower Black people on how to pour time, money, and effort back into our communities.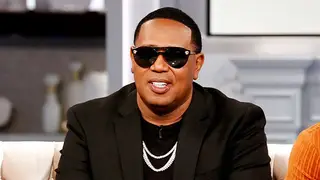 Percy "Master P" Miller has done it all. From starting a record label and flooding the hip-hop charts with hits in the late 1990s to expanding his empire into film, sports management and food. The 6 '4 New Orleans native even made his way into the NBA, playing stints with the Charlotte Hornets and the Toronto Raptors. Throughout all his endeavors, however, one of the most underrated is his philanthropic efforts, which spans well over two decades.
Miller is the brains and financial brawn behind the Hercy Miller Basketball Camp. Named after his 19-year old son, the camp offers free basketball instruction for kids from kindergarten to sixth grade. Miller also established Nola's "National Day of Peace" (June 29) as another way to mentor kids and provide for families during the holidays. His organization Team Hope Foundation has been enriching lives by furthering the education of inner-city youth, providing life-advancement opportunities and helping senior citizens through assistance with food and shelter to create a more comfortable and meaningful life. And if you think that's a lot, he's only just begun.
BET.com spoke to the "Ice Cream Man" to get a better understanding of his passion for charity work, which, it turns out, he believes is intrinsically connected to his prosperity. 
"You measure success by what you are able to give, not what you have. That's why my life has grown and evolved. I'm more happy helping others than all the other things that I do," said Miller
"So, I guess that's where it comes from. It comes from watching my people hurt and seeing that I can be a blessing to others. We've been doing this for 25 years and it's a blessing to be able to give millions back to the community and the culture."
Recognizing the disparity in his hometown, Miller took action and in March 2021 partnered with Rouses Markets to open Guste Grocer — a supermarket designed to help more than 400 elderly, disabled and low-income residents. Nicknamed the "Guste Grocery," residents not only can get food and other supplies without leaving the building, but management is even planning to train residents to run and manage the tiny store themselves.
"To be able to help inner-city youth and to be able to help the elderly is so important because those are people that have been up for that been us — been there for me," affirms Miller.
When Miller's hometown was hit by hurricane IDA last August, he again was quick to respond, tapping his own water company, LA Great, to send bottles of water and emergency supplies to the affected areas.
Water only scratches the surface of the depth Miller has gone within the food industry and how he's leveraged his success to help those in need. Besides being in the food game for years as an investor in Rap Snacks, in 2020 he launched his own line of pancake and rice products called "Uncle P's" after learning about the racist pasts of brands like Aunt Jemima and Uncle Ben's. The line includes syrup, oatmeal and other products. Profits go directly to charities that serve Black communities.
The No Limit founder even brought his line of products to BET's "Cooked in 5" series. In doing so, he has also agreed to auction off a personalized cooking class on another episode of "Cooked In 5" with one lucky winner through the online charity auction CharityBuzz. Fans can bid on amazing experiences in various categories while the money goes to supporting a worthwhile non-profit.
Miller's connection to food goes deeper than just a curiosity or appreciation. It comes from family roots connecting food to service. "How I got into it is through my grandfather, Claude Miller," he explains. "He was a Vietnam veteran and he cooked for the military people. And then when he came back home, in the projects in the community, everybody always ate at our house."
When he's long gone, and the history books write about the life and times of Percy Miller, there will be sections dedicated to the hit records he has sold and the millions he has made over the years. And yet, it's going to be his level of reciprocity, his acute understanding of financial freedom in the Black community and his penchant to give to anyone in need that will speak higher volumes.