Back To School: 5 Books Your Kids Will Love Reading Even After Classes Get Started
Each of these stories will spark honest discussions and promote self love.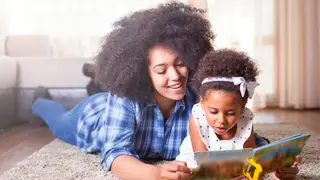 As summer winds down, getting kids back into the groove for school can be challenging. Heck, it may be a lot for you too. The last-minute scramble to get to Target and Walmart for supplies to match the list you just received the day before. The expense of needing to either invest in school uniforms or buy new clothes because somehow, your kid seemingly grew taller over the summer.
While we may not have the answer to all that ails you in this moment—take deep breaths— we do know that a good way to get young brains ready for class discussions and homework is to encourage kids to read. To that end, here are five of our favorite books to get young minds ready for back to school this fall.
"If You Read This" by Kereen Getten
The critically acclaimed author of "When Life Gives You Mangos," Kereen Getten, is back with the young adult book "If You Read This." The story is told against a vividly detailed Caribbean backdrop featuring characters that rise off the page. The coming-of-age story includes Brie, who, on her 12th birthday, receives a series of letters from her mom who passed away that takes Brie on a treasure hunt that leads to uncovered memories and life-changing surprises. This delightful book will keep a young reader totally engaged.
"We Were The Fire: Birmingham 1963" by Shelia P. Moses
History isn't always pretty and yet, it must always be told. And while poet, producer, and author Shelia P. Moses' "We Were The Fire: Birmingham 1963" is a work of fiction, it brilliantly captures the angst and hope of Rufus, a pre-teen growing up in the segregated city of Birmingham, Alabama in the early 1960s. As the city is overtaken by racial violence and the adults fear protesting could cost them their livelihoods, Rufus and his friends have the fearlessness to organize a demonstration. This inspiring book gives us a peek into what it can look like when a few young Black men stand on the right side of history.
"Everything in Its Place: A Story of Books and Belonging" by Pauline David-Sax
If you have a kid who loves to read books, then "Everything in Its Place: A Story of Books and Belonging" by Pauline David-Sax will surely delight your child. It tells the story of Nicky who uses her local library as her safe space. When it temporarily closes, Nicky has to face some of her fears and accept that being different doesn't always mean you have to endure a life of solitude.
"The Queen of Kindergarten" by Derrick Barnes
Being confident as an adult is hard, but for new kindergarten student MJ, wearing her mom's special tiara on the first day of school is just the bawse-like cape she needs to tackle what lies ahead. If you ever felt excitement and jitters over the first day of school, the kindness of MJ and the sweetness of the narrative of Derrick Barnes' new children's picture book "The Queen of Kindergarten" will resonate with you.
"My Little Golden Book About Misty Copeland" by Sherri L. Smith
The Little Golden Book series has been around for over 75 years. While "My Little Golden Book About Misty Copeland" was released earlier this year, its importance outweighs timing. Author Sherri L. Smith's interpretation of Misty Copeland's story as the first Black principal dancer in the history of the American Ballet Theatre speaks to the possibility of achieving a goal that might seem unreachable. Copeland didn't start dancing until she was almost 13 leaving an indelible reminder to young readers that you should never stop believing in your dreams.