Will These Top Black Politicos Help Hillary Clinton Make History?
Former State secretary is forming a diverse campaign staff.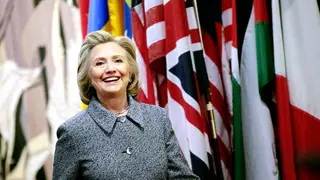 Hillary Clinton has yet to officially announce a second bid for the White House, but at this point, "will she or won't she" is for most political observers a rhetorical question. But, as the nation awaits a formal announcement of her 2016 plans, the former first lady, U.S. senator and secretary of state is quietly laying the groundwork for a campaign that she hopes will reflect America and its diversity.
Democratic sources tell BET.com that Clinton, whose husband was famously called the nation's "first Black president," in part because he hired so many African-Americans, has begun tapping Black political operatives for key senior and mid-level positions at her New York campaign headquarters and in early primary states.
"This is the strongest start when it comes to diversity in presidential politics that I've seen and I've been doing this for over 20 years," says Jamal Simmons, a principal at The Raben Group, a Washington, D.C.-based lobbying firm. "She is hiring Black and Latino department heads and women in important positions. It's aggressive and to be commended."
According to Simmons, it's not only the Democratic thing to do because the party says it values diversity, but it's also important to have people on her staff who come from the same communities as her prospective voters.
"The first thing [such hires] does is show our community that the campaign is concerned about who we are and what our issues are and I think that's very, very important," she said. "It also says to our community that there are people in that campaign with whom we have some genuine ability to talk to and who understand what we're talking about."
Marlon Marshall, for example, will likely become the director of state campaigns and political engagement. He's served on President Obama's 2012 campaign and in his administration, as well as on Clinton's 2008 campaign. Marshall also grew up in St. Louis, Missouri.
"He has first-hand knowledge of what it's like for folks on the ground when you're trying to shape a policy that says Black lives matter," says Minyon Moore, a principal at the Dewey Square Group, former CEO for the Democratic National Committee and assistant to President Bill Clinton and director of White House Political Affairs.
It's also "important that we're there, that we're represented and that we have a voice," Moore added, and that will be reflected as Clinton shapes policies.
Marshall also is reportedly close to Robby Mook, who is set to be Clinton's campaign manager.
"That's incredibly important because there's the organizational flow chart relationships, but like most organizations, especially political ones, the personal relationships can matter more," Simmons says.
Brynne Craig is poised to serve as deputy national political director. She worked on Clinton's 2008 campaign and served as a deputy scheduler in her office at the State Department. She also was the political director for Virginia Gov. Terry McAuliffe's 2013 campaign and has held senior positions at the DNC and the Democratic Congressional Campaign Committee.
Bernard Coleman, who most recently served as the DNC's human resources director and deputy chief diversity officer, will likely become the Clinton campaign's director of human resources.
A Clinton win in 2016 would be historic and a major hurdle for any Democratic challengers to overcome. But no matter how inevitable or presumptive she may seem to some, it will still be important to make a good showing in important primary states.
South Carolina holds the first primary race in the South, and Clinton will be looking to Clay Middleton, a former top staffer for Rep. James Clyburn, to deliver the sort of landslide victory that Obama enjoyed in 2008. Middleton also has been a major in the state's Army National Guard for more than 15 years, was a special adviser for the Department of Energy and previously worked for Obama for America.
Tracey Lewis, who was a field director for Clinton's primary win in New Hampshire, will serve as primary states director. She has been a strategic advisor for Sen. Elizabeth Warren and was the Massachusetts Democrat's deputy campaign manager for her 2012 Senate bid. Lewis also was executive director for the Georgia Democratic Party during the 2014 cycle.

Simmons says he's particularly excited that Tyrone Gayle has been tapped to head up one of Clinton's regional press desks. He and other top African-American politicos in Washington, D.C., have helped nurture careers like his as he's moved up the ranks from working on the campaign staff of Virginia Sen. Tim Kaine, in the office of Senate Majority Leader Harry Reid and as the west regional press secretary for the DCCC during the 2014 midterm election cycle.
Rising stars like Gayle, whose career trajectory is similar to his own, Simmons says, brings to the table a portfolio that enables them to inject perspective into the broader conversation and also look out for their own communities. He also likens time spent working on presidential campaigns to "leap years" that sets political operatives up for success when the campaigns end.
"They provide an opportunity for staffers to leap over the next step or two in their career," he said. "You've got to get the opportunity to show off what you can do so you can get that leap forward."
BET Politics - Your source for the latest news, photos and videos illuminating key issues and personalities in African-American political life, plus commentary from some of our liveliest voices. Click here to subscribe to our newsletter.

(Photo: Yana Paskova/Getty Images)