DMX Hops on the Bad Boy Family Reunion Tour
The party continues.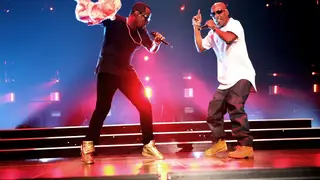 Those following the adventures of Diddy as he Snapchats the behind-the-scenes action on his Bad Boy Family Reunion tour know that the reputed entertainer often refers to this tour as one big party.
With the recent addition of DMX to the lineup, it's safe to say the party is continuing this fall.
As announced by the boss himself, DMX has officially joined the already-stacked lineup and will perform during the tour's 10 remaining dates.
"I'm grateful to be a part of it and grateful to be as successful as I've been," DMX says. "I'm blessed to be a part of something that clearly is an epic tour. It's clearly something that's going to be historic…that is historical."
DMX has already graced the Bad Boy stage as a special guest several times this summer, even blessing the lineup with a pre-show prayer in Chicago, so his officially joining the tour is more than fitting.
Check out DMX expressing his gratitude to officially join the reunion tour in the clip below.