Video: LeBron 'Literally Cried' Watching His Son Shoot Hoops In The Driveway Before Sunrise
The Lakers' star and four-time league MVP shared his proud dad moment with followers in an emotional post.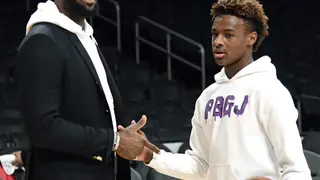 LeBron James loves his children. He is ever present at their youth basketball games and is always telling us, via social media, how proud he is of his kids. 
In a recent post on Twitter over the weekend, James shared video of his son LeBron James Jr. (a.k.a. Bronny), working on his game at 5 a.m. 
It was a proud moment for the elder James and caused him to reflect on his own upbringing, how far he's come in life, and the obstacles his kids will never have to face. 
In the world of parenting, James Sr. is no different than any other parent in terms of the wants and desires for his kids. 
James' story is legendary. Growing up poor, moving from place to place because rent couldn't be paid, raised by a single mother. It's a story with an all too familiar refrain. 
Like anyone else that grew up in similar circumstances and eventually becomes a parent, he wants the best for his children. He wants to give them everything he never had. He wants to be present in the way he wishes his father was. 
On that score, he is delivering all that and more. 
He will continually be criticized by some for what they see as being on "overdad" or making it about "himself." But he won't pay any attention to that and will continue to be the best dad he can be to his three children. 
Bronny has the tremendous weight of being LeBron James' son. However, those are others' expectations. No doubt James will continue to give him the love, guidance and support necessary to become whatever he wants to be. 
Given his desire to be up at 5 a.m. working on his game when most kids his age would be asleep. He's clearly got designs on being a baller, like his father.