Ella Mai Threw Major Shade At Jacquees On Twitter – And Fans Are At War
Tory Lanez and Jacquees' femcee girlfriend, Dreezy, also stepped in on the uproar.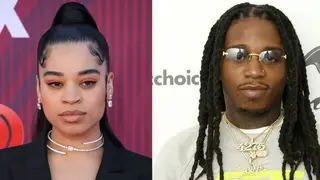 The "Trip" tension between R&B singers Ella Mai and Jacquees' is still holding steady in 2019 after his "Quemix" version of Ella's sophomore single set off a messy series of legal back-and-forths in 2018.
The remix grew to fan favoritism upon its release on YouTube and SoundCloud, but was snatched down by Ella's 10 Summers label lead, DJ Mustard. The move sparked hostility between the Cash Money Records crooner and Mustard afterward, who shielded Ella from the backlash of having the song removed and explained his decision behind having the track scrubbed from the internet. "When you monetize content you don't own you are stealing and no one steals from 10 Summers," Mustard wrote in a social media post. "Ella had no say in the matter and any platform reporting any differently is spreading falsities."
Jacquees revealed later on, however, that the debacle still caused a rift in his relationship with Ella where they didn't speak, though they were still cool with each other. Unfortunately, that may have changed after Toronto's R&B lover boy Tory Lanez brought Jacquees out on stage at London's O2 arena, where he sang the "Quemix" record—right on Ella's stomping grounds.
After video footage of Jacquees' performance hit the internet, fans noticed a rather shadily subliminal message from Ella

"I'd be so embarrassed if someone brung me on stage and the only thing I could sing was someone else's song because nobody knew my actual music," she tweeted. "Poor thing."

Dreezy, Chicago-bred female rapper and Jacquees' girlfriend, showed up to fact check the shade soon after...

The Big Dreez rapper responded on Instagram, making it clear that Quees actually had no intention of singing the song in the first place, and in fact, loathes performing it. Dreezy said they put him on the spot on stage, and he simply rolled with the punches. She had some words for Ella's shade, too. "Every single he dropped is gold or plat," she responded, "humble yourself girl."

Warmly, Jacquees had thoughts on the matter too, which he followed up Dreezy's response with

He clarified that the situation was already cleared up with Ella's label boss, who ceased and desisted the "Quemix," Mustard, and have put it all behind them. "I'm doing what I do," he continued, "Much success to ya Ella Mai."

Tory, who inadvertently became the middle man, also stood in Jacquees' defense

"Cuz came out to his own sh**," he informed on Instagram. "My n**ga ain't even wanna perform the remix…but I put him on the spot." The "Talk To Me" singer took into consideration the 30,000 people urging for Jacquees to perform it, and thus, Tory granted their requests. "On another note @jacquees u killed ALL the songs u performed tonight! Keep shining my n**ga! #BlackExcellence."

The internet has now heard all sides of the story. And while some fans are still irked about Jacquees' choice to sing the forbidden "Quemix" in front of thousands, others are also fending off his detractors. See their tug-of-war for who's right and wrong in another chapter of the infamous "Quemix" Trip track saga below: