CultureCon Hosts The Ultimate Creative Homecoming In New York – Here Is What We Learned!
Lena Waithe, Taraji P.Henson, and Meagan Good dropped major gems during the star-studded event.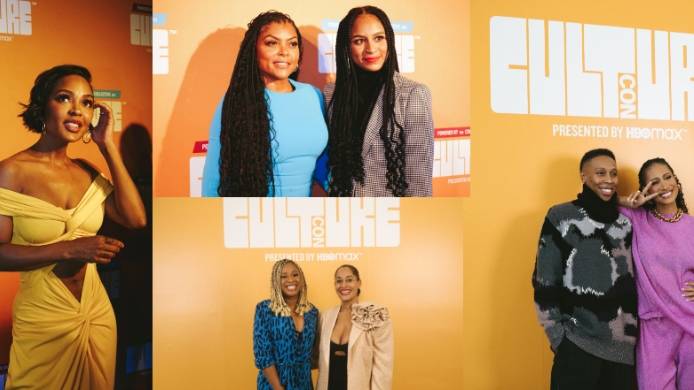 CultureCon made its final stop of its 3-city tour in NYC over the weekend. With 3,500 attendees, the star-studded event was the epitome of Black excellence. 
Founded by entertainment executive Imani Ellis and powered by the Creative Collective, culture-shifters, change-makers, and visionaries descended upon its offerings of panels, events, and activities.
In a day dedicated to bridging community and craft, the audience and speakers such as Lena Waithe, Taraji P. Henson, Tracee Ellis Ross, Kenya Barris, Kendrick Samson, Tabitha Brown, and more gathered to show the prowess of culture and the impact creatives of color continue to have in their industries. This year's CultureCon was a mixture of elevated and hard-hitting conversations that further entrenched the conference as a space for like-minded visionaries. 
This conference is like none other and was a reminder to all creatives to take up spaces and own them.
'Twenties' creator, Lena Waithe hit the stage during the 'Creative Genius' panel, where she was interviewed by Elaine Welteroth and discussed how your community is what keeps you lifted while doing the hard work of building a company. 
Our favorite girl, Taraji P. Henson, dropped gems about the importance of realizing that you can only change yourself and not those around you. 
Teen Vogue alum, Elaine Welteroth has some advice for the dreamer who may not know what path to take. In a video shared to Instagram she says, 'Understanding what your unique zone of genius is, what that this is that no one can do quite like you... and finding a way to reorient your life to spend more time doing that thing is how you make your best work.'
Besides the purposeful panels, there were also fireside chats and activations featuring installations from LinkedIn, Audible, Foot Locker, The Onyx Collection, and more. 
This years CultureCon was a 10 out of 10 experience, we can't wait for next year!