The Reel Story: 12 Years a Slave
Tune in Saturday at 12P/11C.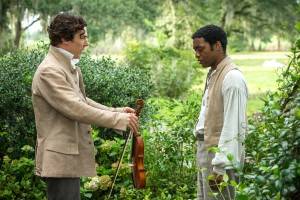 Hosted by veteran reporter and entertainment journalist Shaun Robinson, The Reel Story: 12 Years a Slave takes a candid look inside the critically acclaimed film 12 Years a Slave, directed by Steve McQueen.
Robinson will be joined by the film's stars Chiwetel Ejiofor, Alfre Woodard and Lupita Nyong'o along with director Steve McQueen and screenwriter John Ridley. The hour-long conversation will examine the life of Solomon Northup, the free-born African-American on which the film is based, who survived 12 years of enslavement after being drugged and held captive by future "employers" in the 1840s.
We'll learn about how Northup's traumatic life story provided the backdrop for a film that transcends generations to reflect on a reality that once existed for African-Americans.
In addition, we'll hear the opinions of hip hop luminary Lupe Fiasco, Being Mary Jane leading-man Omari Hardwick and others on the impact of the film and how slavery relates to today's racial and political landscape.
Don't miss this heart-wrenching, captivating and timely special on BET this Friday, November 1 at 9P/8C. Encore airs on Saturday, November 2 at 12P/11C.