HBCU Bomb Threats Disrupt Campus Activities For Second Day In A Row
Howard, Morgan State, Edward Waters, and more all reported threats in what has now become a pattern.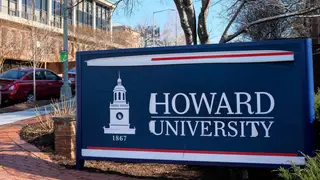 New bomb threats targeting numerous HBCUs Tuesday (February 1) for a second straigh day and third within a month, with many of them speaking out against the intimidation.
Howard University, Morgan State, Jackson State, Mississippi Valley State, Coppin State, Alcorn State, Kentucky State, Tougaloo, Fort Valley State, Xavier (New Orleans), Spelman, Bowie State, UDC, and Edward Waters all received threats of violence.

This comes a day after six HBCUs received threats, forcing them to lockdown or cancel classes. Several others reported threats on Jan. 5.
According to NPR, Howard specifically gave an "all clear" notice to its students at 7:30 a.m. EST, after the latest threat triggered a shelter-in-place order at 3 a.m. Keely Aouga, a 20-year-old junior sociology major at Howard, tells BET.com she noticed police vehicles at several buildings and that some students on campus felt safer than others.
"I think it depends on where people live," she noted. "I live 20 minutes away from campus so I feel more safe than I would if I lived on campus. But some people are concerned about the fact that Howard hasn't closed the campus, unlike other campuses."
Aouga and other students feel, with the timing being the start of Black History Month, the bomb threats could be racially motivated.
"With today being the first day of Black History Month, it doesn't feel like a coincidence," she said.
Howard has also issued a statement via university president Wayne A.I. Frederick:
"As we mark the beginning of Black History Month, we must remember what the Black community has endured, overcome and achieved despite the threats against us and the hate we have received," the statement read in part. "It is critical that we do not allow these harassments to distract or deter us from the purpose that has brought each of us to Howard University."
WEAA reports Morgan State in Baltimore said access to its campus was closed on Tuesday morning due to a bomb threat and asked all on campus to shelter in place.
Currently, the threats are reportedly being investigated by local and state police, along with the FBI.
"The FBI is aware of the series of bomb threats around the country and we are working with our law enforcement partners to address any potential threats," the bureau said in a statement, according to NPR. "As always, we would like to remind members of the public that if they observe anything suspicious to report it to law enforcement immediately."
Most colleges and universities receiving bomb threats lifted shelter-in-place orders after school officials issued all-clear notices.