Al Roker Is A Grandpa! Daughter Courtney And Husband Wesley Welcome Daughter Sky
The legendary weatherman and his family happily welcomed the newest member of their family.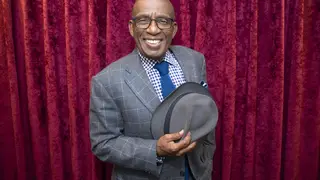 Legendary Today show anchor and weatherman Al Roker has shared that his daughter Courtney and her husband Wesley Laga have welcomed their first child, a daughter appropriately named Sky.
Sky Clara Laga was born yesterday, July 3, and according to PEOPLE, the family "couldn't be happier."
Courtney is Roker's daughter with ex-wife Alice Bell, whom he was married to from 1984 to 1994. He also has two children Leila and Nick with his wife, journalist Deborah Roberts.
Last month, Roker celebrated Courtney and Wesley's wedding anniversary, writing on Instagram, "2 years ago today, these two tied the knot," Al captioned a sweet Instagram post on June 4. "Today we celebrated their about to be here baby girl. So excited."
It's been a big year for Roker who took a break from anchor duties to have a second knee replacement surgery--which he said made it more complicated.
"This one is a little more complicated because it's what they call a revision; it was a replacement of a replacement, so they had to take stuff out, put stuff in, so it was a bit of a bear," Roker revealed at the time. "So we've just been kind of hanging out. Chilling out, not doing anything — which I know, a lot of people find hard to believe, but in fact, that is the case."
Roker has been anxiously awaiting the birth of his granddaughter since his daughter accidentally revealed the gender to him earlier this year.
"She [texted] me a sonogram picture and I said, 'That baby looks just like you,' and she said, 'Doesn't she?' And then you see the bubbles," Roker told Entertainment Tonight, recalling the incident. "[She goes] 'I'm so sorry!' and I went, 'You had one [job]!' "
He added with a laugh, "I wanted to be surprised."