Al Roker Celebrates Daughter Courtney's Anniversary Ahead Of 1st Grandchild's Arrival
The veteran weatherman is 'excited' to become a grandfather.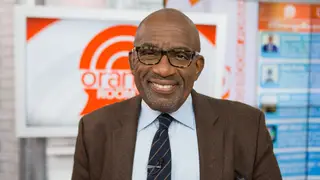 Al Roker is anxiously awaiting his first grandchild as his daughter, Courtney Roker Laga, who is pregnant, and her husband, Wesley, celebrate their second wedding anniversary together.
"2 years ago today, these two tied the knot," Al captioned a sweet Instagram post on June 4. "Today we celebrated their about to be here baby girl. So excited."
Courtney is Roker's eldest daughter with ex-wife Alice Bell. She works as a recipe developer and culinary content creator. He also has a daughter, Leila, 24, and a son, Nick, 20, with his wife, Deborah Roberts.
Roberts also saluted Courtney in an IG post writing, "Happy anniversary dear Courtney and Wes," she wrote on Instagram. "Two years ago, we were toasting your union. Now we celebrate the pending arrival of your first child. What a beautiful day. So thrilled for you both."
In an interview with Entertainment Tonight earlier this year, the legendary anchor said that Courtney let the big reveal slip in a text message. "She [texted] me a sonogram picture and I said, 'That baby looks just like you,' and she said, 'Doesn't she?' And then you see the bubbles," Roker said, recalling the incident. "[She goes] 'I'm so sorry!' and I went, 'You had one [job]!' "
"I wanted to be surprised," added Roker with a laugh. He said that Courtney is due this month.
Roker recently returned to the Today Show after having his left knee replaced for the second time.
When popping in to surprise his co-hosts last month, he said, "I am doing fine. It is good to see all of you. I'm going to be honest. I've had a number of replacements, knee replacements. It's not a big surprise," Roker said. "This one has been the toughest one yet because they had to take out the old one, which had some complications, and then put in a new one."
Roker has frequently checked in with fans about his recovery, sharing that this surgery was a little more challenging.
"This one is a little more complicated because it's what they call a revision; it was a replacement of a replacement, so they had to take stuff out, put stuff in, so it was a bit of a bear," Roker revealed at the time. "So we've just been kind of hanging out. Chilling out, not doing anything — which I know, a lot of people find hard to believe, but in fact, that is the case."