Kanye West Gets Blasted By This Legend's Son Over Outlandish Comparison
The spirit of Fela, the spirit of Marley, the spirt of Pac... they flow through me." –– Kanye West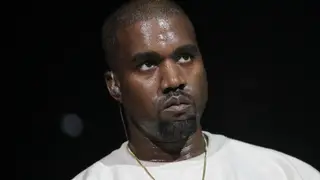 At this point, Kanye West being dragged by anyone is a daily occurence, just as draining as our actual news cycle. In light of his recent conversation with Donald Trump, his wife, Kim Kardashian, was put on blast by Cali legend Snoop Dogg. While many other hip-hop veterans weighed in on Ye's antics, the estranged Chi-town emcee took to his usual stomping grounds via Twitter to allow his remaining fans to understand his "mind control."
During his 9-minute monologue, he raved about his "straight up Sigmund Freud" IQ score, and that people telling him what to do makes him feel like they're "touching his brain." He continues to state that Sony, SNL and social media all control him. Towards the end, he declared himself as "the best living recording artist" and further said it's because "the spirit of Fela [Kuti], the spirit of [Bob] Marley, the spirit of Pac flows through me."
As a defense to his sentiments, the "Power" emcee replied, "If I let people tell me what to do, tell me what I can't do, that I can't be a vessel to you..."

"The reason why Pac did what he did, he was a vessel. He is. His energy never dies. Bob Marley: vessel. Fela: vessel. Ye: vessel," he finished. Despite more than a few coming to terms with Ye's downward spiral, the kin of Fela Kuti, pioneer of Afrobeats, didn't take Ye's statements so nonchalantly. 

"On behalf of the Kuti family, [his] spirit isn't anywhere near Kanye West," stated his youngest son, Seun

All of this taking place on what would've been Kuti's 80th birthday, Seun passed the message to Bob Marley's son, Ziggy, and enlisted the help of radio host Ebro Darden to "come get his boy." 

Some remaining fans of the "808s and Heartbreak" rapper expressed their outrage on Twitter.