Kodak Black Claims Racial Profiling Following Florida Arrest
"Ima sue these people," the rapper tweeted.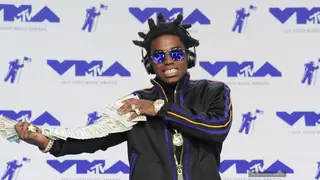 Kodak Black is not happy with Florida police following his arrest in Fort Lauderdale earlier this month.
According to Yahoo!, the "Super Gremlin" rapper is ready to sue and alleges he was a victim of racial profiling.
On July 15, Kodak was taken into custody after Florida Highway Patrol officers discovered 31 oxycodone pills and $74,960 in cash. Initially, he was pulled over for his window tints appearing to be too dark.
He was charged with possessing a controlled substance without a prescription and the trafficking of oxycodone.
The rapper agreed to pay a $225,000 bond, ordered to submit a drug test, wear an ankle monitor and to not leave home unless for court, employment, or medical care. If he needs to do studio-related activities, he must get approval from a judge beforehand.
Kodak, 25, took to his Twitter on  to speak on the situation Tuesday (July 26)
"This s**t is bogus" he began his tweet. "I feel like this a character assasination issue."
He feels that his tags being expired was no reason to have his car searched "and going to jail about having my medication in the car is insane."
He finished his statement with, "Ima sue these people for every dollar I gotta spend bout this s**t."
Kodak is a Pompano Beach, Florida native and says he's being "racially profiled and as a Black man in America I deserve my freedom."
With his celebrity status, he believes he should be able to "move freely" and not be arrested for expired tags and dark tinted windows. He admits his team should've been on-par with tags but "I should have a pass to drive with tints due to my status AT LEAST."
His lawyer, Bradford Cohen, insists that the oxycodone pills were prescription medication. He says the rapper suffers chronic pain due to being shot in Los Angeles, California in February.